Washington Wine of the Week – Selections for Summer, 2023
Posted by Dan Radil
Posted on September 17, 2023

For the week of September 17, 2024: Wines of Smoky Rose Cellars – Smoky Rose Cellars doesn't offer a large list of current wines. Heck, they only produce about 950 cases annually, and when wines are ready for release, they go quickly. Husband and wife owner/winemakers Josh and Jodi Roznowski have done a great job of purposely staying small and making handcrafted gems from their boutique winery located just west of Walla Walla. A couple of current "buy-now" choices: their 2022 Rose' of Cabernet Franc, which is cram-packed with mouth-watering strawberry and melon flavors, great acidity, and just a shade under .5% residual sugar; and their 2022 Roussanne, with artful touches of field grasses, citrus, almonds, and honeycomb that is best enjoyed when it's slightly chilled.
For the week of September 10, 2023: Moonbase Cellars 2021 Cabernet Sauvignon – Oh my goodness, this wine is so very, very delicious! Gorgeous bouquet of crushed blackberry fruit, gobs of dark berry and black cherry flavors, and a velvety soft finish with touches of toasted oak highlight this incredible Cab. Sourced from Seven Hills Vineyard; only 75 cases produced. Upcoming release alert for February, 2024: Moonbase's Max Q Reserve, which requires a waitlist reservation. I had a sneak-peak tasting of this Funk Cabernet, River Rock Syrah, Winesap Merlot blend, and the savory elements of the Rocks District AVA fruit are subtly and beautifully balanced with understated notes of macerated berries, black currant, and licorice root. This is one wine that will most certainly be worth the wait.
For the week of September 3, 2023: Los Rocosos Vineyards 2019 Gustavo Y Paco Sangiovese – Roger Lemstrom's Los Rocosos winery is located in the Milton-Freewater, Oregon area, and he sources his grapes from the state's Rocks District and the Walla Walla AVA, which extends between Washington and Oregon. All of his wines could be considered anything but heavy-handed; they're lighter in body style – which allows the fruit to come through – and coupled with stunning aromatics. This lovely Sangiovese has an incredible nose of potpourri, lavender, crushed herbs, and purple fruits, with a palate of black plum and savory bell pepper. At only 11% alcohol, one might think the wine would fall flat, but there's plenty of character and structure here, and pairings with pasta and tomato-based sauces or mild Italian sausage come to mind as potentially excellent food/wine combinations. The friendly, quiet, and unassuming tasting room is just a few minutes drive into Oregon from Washington's southeast corner.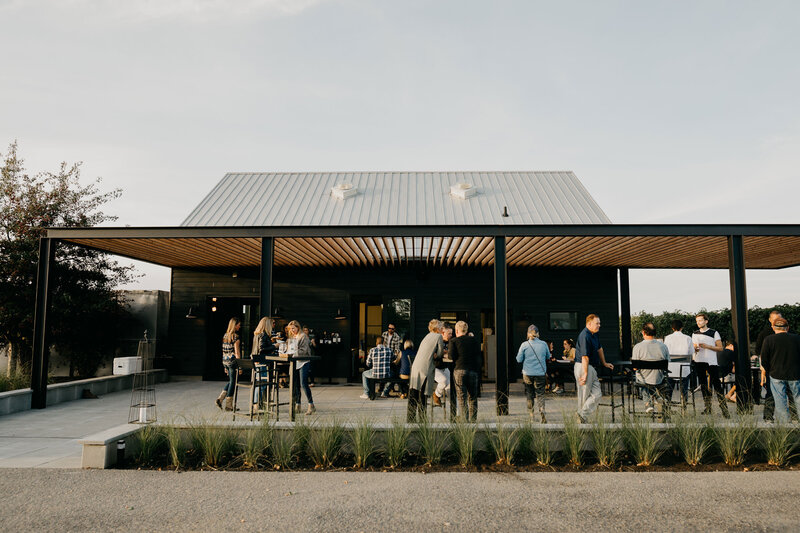 For the week of August 27, 2023: Kinhaven Winery & Vineyard 2022 Rose' – The tasting room menu at Kinhaven lists five tastes to look for in this Rose', and the top one is probably the best: peach sorbet. This may seem like a somewhat unlikely descriptor, but the balance of tangy, white peach along with a gentle creaminess on the finish is absolutely spot-on. Add to this some intoxicating aromatics of red roses and honeysuckle blossoms, plus additional flavors of wild strawberry, lime zest, and ruby-red grapefruit, and it's no wonder this wine earned a Double Gold medal and 94 points at the 2023 Pacific Northwest Wine Competition. Only about 225 cases of the wine were produced, so buy it now and enjoy it soon.
For the week of August 20, 2023: Saviah Cellars 2020 Hunt & Gather Red Wine – Rich Funk's estate vineyard, located in the Rocks District AVA, is the source for this mind-numbingly good red blend, comprised of 60% Cabernet Sauvignon and 40% Syrah. Despite this region's reputation for producing grapes with more savory, meaty characteristics, the Cabernet fruit takes center stage here, and the results are spectacular. Ultra-dark cherry, black raspberry, and Marionberry flavors lead off, and seamlessly transition into a gorgeous finish of milk chocolate, brambly spices, and sweet cedar along with finely integrated tannins. The soft landing is silky, lengthy, and worth savoring. Exceptional!
For the week of August 13, 2023: Adamant Cellars 2022 Ruby Ruth No. 14 Rose' – Walla Walla's Devin Stinger is making some awfully good wines that are available for purchase on line and to those visiting his tasting room, located near the city's airport. His current iteration of Rose' is outstanding and crafted from a rarely seen varietal in Washington State: 100% Counoise grapes. Gentle lavender and rose petal aromatics lead to bright flavors of tangerine, cranberry, wild strawberry, and pie cherry. The bone-dry residual sugar content is capped by linen-crisp acidity. Delicious! 93 points and a Double Gold medal winner at the 2023 Pacific Northwest Wine Competition.
For the week of August 6, 2023: Martinez & Martinez Winery 2022 Albarino – This family owned winery, located in Prosser, has quietly built a name for itself by producing a variety of solid, affordable wines. This soon-to-be-released, 94-point Albarino from the Yakima Valley AVA is a prime example; it opens with a lovely bouquet of jasmine and lime citrus, followed by juicy pear and watermelon flavors. The finish carries an intriguing touch of dried apricot and almondy marzipan along with a hint of spiced lychee. Together, they provide a nice contrast to the splash of acidity that also reveals itself on the wine's final stanza.

For the week of July 30, 2023: Mercer Wine Estates 2022 Rose' – The Best Rose' at the 2023 Pacific Northwest Wine Competition, this gem from the Mercer family is packed with strawberry and watermelon aromas and flavors from start to finish. There's also a bit of weight on the mid-palate with a slice of strawberry shortcake, followed by notes of pie cherry, rhubarb, watermelon rind, and lemon pith. With no residual sugar on the finish, the vibrant fruit flavors really shine through, and that makes it an absolutely perfect choice for Rose' lovers. Sourced from the winery's Spice Cabinet Vineyard and crafted from 100% Grenache.
For the week of July 23, 2023: Dunham Cellars 2019 Cabernet Sauvignon XXV – Long-time Walla Walla winery Dunham Cellars took Best Red Wine honors at the 2023 Pacific Northwest Wine Competition with this stunning, 98-point Cabernet. Beautiful flavors of plum, black currant, hibiscus tea, and star anise are framed by touches of mint, cedar, and black pepper. The finish of round, velvety tannins makes this an instantly enjoyable choice, with plenty of room to spare for cellaring over the next five to seven years.
For the week of July 16, 2023: Alexandria Nicole Cellars 2022 Shepards Mark – Jarrod and Ali Boyle planted Alexandria Nicole's Destiny Ridge Vineyard in 1998, so it's only fitting that on the 25th anniversary of the event, this white wine, sourced from that historic vineyard, would win Best in Show honors at the 8th Annual Pacific Northwest Wine Competition.
The combination of Roussanne, Marsanne, and Viognier was a unanimous choice of the judges, who loved the wine's complexity, layering, and overall character.
Gorgeous floral and fruity aromatics of rose petals, cherry blossoms, and cotton candy lead to a palate of tangerine, peach, Gala apple, and zippy lime citrus. The ultra-long finish is highlighted with mineral notes and perfectly balanced acidity. The wine retails for about $28 and should be available at the winery's tasting rooms in Prosser and Woodinville, Washington.
For the week of July 9, 2023: Goose Ridge Distillery Feather & Folly Copper Pot Gin ($35 for the 750ml bottle) – Goose Ridge Estate Vineyards and Winery has already made a name for itself in the distilled spirits category with its VIDO Vodka label. Now, they've branched out into the field of gin, and anyone who enjoys this flavorful and complex beverage should most certainly give the distillery's newly-released spirit a taste.
Made by distilling the winery's Cabernet Sauvignon grapes, it's infused with six botanicals, including juniper berries sourced from Washington state growers.
For me, it's the orange zest that stands out, particularly on the finish, which is both remarkably clean and surprisingly soft – despite its 87-proof content. That makes it ideal for sipping and savoring. If you must combine it with tonic, go ahead, but the best way to enjoy this gin may be ice-cold, in a well-chilled martini glass simply on its own, giving that nearby bottle of Vermouth no more than a playful glance.
For more details, including purchase information, visit www.drinkfeatherandfolly.com
For the week of July 2, 2023: Echolands Winery 2022 Albus – Big things are on the horizon for this relatively new Walla Walla winery; in addition to maintaining their downtown tasting room, they'll be expanding into a winemaking facility and hospitality center in late 2023. Owner Doug Frost and his team are off to a tremendous start, and this selection, sourced from the winery's Taggart Vineyard (located in the foothills of the Blue Mountains) is a must-try white wine blend of 72% Sauvignon Blanc and 28% Semillon. Lovely notes of white peach, alfalfa, and field flowers fill the glass, while a suggestion of creaminess from partial oak fermentation is balanced by steely, bracing acidity. A red Bordeaux blend, the 2019 Rubrum, is another stellar choice on the current tasting room menu that is also highly recommended.
For the week of June 25, 2023: Jones of Washington 2022 Viognier – This very yummy Viognier from the Quincy, Washington winery makes a perfect summer sipper. Gentle aromatics of clover and meadow grasses lead off, with a mouth-watering palate of peach nectar, apricots, and Rainier cherries. The finish hints at a touch of sweetness, and this becomes even more evident if you serve it alongside something with a bit of heat (a pairing with crab cakes and a dash of Tabasco sauce is sublime). On top of all this, the wine retails for only about $16…an absolute steal. Best in Class at the 2023 Savor Northwest Wine Awards.