Washington Wine of the Week – Selections for Winter, 2023
For the week of March 12, 2023: I'll be taking the week off as I prepare to move from Bellingham to Walla Walla, Washington, where I'll be continuing my role as President of the Whatcom Beer & Wine Foundation and moderator of our 8th Annual Judged Competition. Our "rebranded" event will become the Pacific Northwest Wine Competition and held this year on July 9 – 12, 2023. It's an exciting time both for the Foundation and for me personally, and I'm looking forward to continuing as a promoter and advocate of Pacific Northwest wines and wineries in my new location. Look for more great recommendations here in the years ahead!
For the week of March 5, 2023: Sigillo Cellars 2019 Tempranillo – In a word: delicious! Sourced from Rosebud Vineyards – one of the first planted in the Wahluke Slope AVA – this red wine hits all the right notes from start to finish. Black currant, black olive, sweet tobacco, and blackberry preserves head up the flavor profile, followed by a flourish of toasted walnut, cardamom, and black pepper. At nearly 15% alcohol, it carries a bit of a full-bodied persona, but there's no trace of hotness because the nuanced acidity and tannins balance everything out. The winery has tasting rooms in the towns of Snoqualmie and Chelan, Washington.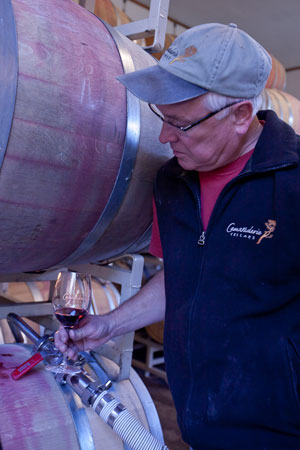 For the week of February 26, 2023: Camaraderie Cellars 2018 Grace Red Wine – It seems hard to believe that Owner/Winemaker Don Corson has been turning out wines from his Port Angeles winery for over four decades (where does the time go?) and he's always done a nice job of holding back his wines to allow them to mature in the bottle. This blend of Merlot, Cabernet Franc, Petit Verdot, and Malbec bursts onto the scene with fragrant red fruits of raspberry and strawberry that carry over to the palate along with a smack of red cherry. The pleasant surprise about this wine is its excellent finishing acidity, capped by a hint of orange zest and beautifully integrated tannins.
For the week of February 19, 2023: Plumb Cellars 2018 Damn Straight Red Wine – One of the great things about red blends is the layers of aromas, flavors, and textures you're likely to find from a virtually unlimited combination of varietals. This selection from the Walla Walla winery is a Bordeaux blend of Cabernet Sauvignon, Cabernet Franc, and Merlot that displays an incredible array of tastes that are certain to leave you thinking. Blueberry and raspberry flavors provide the framework for the wine's fruit profile, while roasted coffee, black pepper, and bell pepper offer up more savory elements. The finish includes notes of vanilla, ginger, and a touch of earthiness. The wine earned a Platinum medal plus a 94-point score from the 2022 Great Northwest Wine Platinum Awards.

For the week of February 12, 2023: Alta Cellars 2021 Rose' – This gem of a wine showcases some of the amazing fruit coming out of the Lake Chelan AVA and is crafted from 100% Syrah. It opens with flavors of strawberry shortcake, red plum, and cranberry, and finishes with bright touches of lemon zest and tangerine. Unanimous Gold Medal winner (Double Gold) at the 2022 Bellingham Northwest Wine Competition. Available at the winery tasting room in beautiful downtown Manson, Washington, which is open seven days a week and well worth the visit, any time of year.
For the week of February 5, 2023: Welcome Road Winery Non-Vintage Mistral – Seattle-based winemaker Leigh McMillan is quickly earning a reputation as one the top woman winemakers (perhaps even winemakers, period) in Washington State. She sources most of her grapes from Dineen and Marcela Vineyards, and makes her wines with a perfect balance of understated fruit flavors, body, and character. This recently released blend of equal parts Malbec, Merlot, and Cabernet Sauvignon is an absolute knockout. The Malbec really comes through, with juicy blackberry and raspberry fruit, and the flavors melt into a lengthy finish suggesting cola nut, pipe tobacco, and sweet cedar. Nicely integrated tannins give it just the right amount of texture and although this is an instantly enjoyable wine, it can easily go into your cellar for a few more years.
For the week of January 29, 2023: Tirriddiss Non-Vintage Blanc de Blanc R.2.1 – Newbie winemakers Andrew Gerow, Matthew Doutney, and Gabriel Crowell are turning heads with their sparkling wines; this one features lovely, baked bread aromatics, bright pear and lemon citrus flavors, and linen-crisp acidity with a virtually bone-dry (.2% residual sugar) finish. Sourced from the Yakima Valley AVA and comprised entirely of Chardonnay. Available at their Richland, Washington wine shop or online at tirriddiss.com.
For the week of January 22, 2023: Tipsy Canyon Winery 2019 Malbec – Manson winemaker Mark Garvin is really hitting on all cylinders right now, producing a full range of red, white, and rose' wines that are flavorful, expressive, and downright delicious. This stunner of a Malbec is a perfect example, with a core of black licorice, star anise, dried plum, and black cherry flavors; while finishing touches of cinnamon toast, green herb, and baking chocolate add complexity and depth. This wine is a prime candidate for a contemplative sipper. The 2020 vintage, sourced from Antoine Creek Vineyards, is also currently available.
For the week of January 15, 2023: Watermill Winery 2018 Estate Cabernet Sauvignon – With locations in both Milton-Freewater, Oregon and Wenatchee, Washington, Watermill draws heavily on fruit from the Walla Walla Valley, which straddles the two states along the Southwest Washington/Northeast Oregon border. Drinking beautifully now, this 96-point, Double Platinum Cab could easily spend another decade in the cellar. Charcuterie, black currant, and bittersweet chocolate come through on the palate, with touches of crushed herbs including cardamom and oregano on the fringes. The full-bodied finish is highlighted with a spritz of black pepper and toasted oak. A food pairing with anything beef is practically mandatory.
For the week of January 8, 2023: Arbor Crest Wine Cellars 2018 Dionysus Meritage Red Wine – One of the highlights to any wine lover's trip to Spokane, Arbor Crest offers peerless views of the Spokane Valley that can be enjoyed along with excellent wines from winemaker Kristin van Loben Sels. This Cabernet Sauvignon-dominant, Bordeaux blend is one of the winery's higher-end, must-try selections. Inviting aromatics of roasted nuts and vanilla bean lead off, with a mid-palate of cherry jam and macerated berries. The finish carries a fair amount of grip along with cherry pit accents, which gives this wine plenty of backbone while the fruit flavors continue to linger on. Outstanding!

For the week of January 1, 2023: Chris James Cellars 2021 Sparkling Sauvignon Blanc – When shopping for sparkling wines, don't forget to look to Oregon as well. For this week's selection we head across the state line to Oregon's Yamhill-Carlton AVA – located just southwest of Portland – where winemaker Chris Barnes is producing some stunning wines. Although a few may consider this sparkler to be a bit inelegant with its larger bubbles and relatively high alcohol content, many will absolutely love its full-bodied flavor profile and fragrant aromatics. White flowers, citrus, and fresh apricots on the nose are followed by flavors of ruby red grapefruit, green pear, and a touch of tropical fruit on a faintly sweet finish. Try it with a variety foods including seafood, sushi, or even fried chicken. The wine received a well-deserved 93-point, Double Gold medal from the judges at the 2022 Bellingham Northwest Wine Competition and it went on to earn a 96-point, Double Platinum award from Great Northwest Wine.
For the week of December 25, 2022: It's Christmas Day! Take the week off and prepare for the upcoming New Year's holiday by celebrating with a bottle of sparkling wine. Years ago, it seemed as though only a handful of Washington wineries produced sparklers (Domaine Ste. Michelle, Treveri Cellars, and Karma Vineyards come to mind). Now, your choices are practically unlimited, with more and more Pacific Northwest wineries jumping on the sparkling wine bandwagon such as Yellowhawk, Tirriddis, Hard Row to Hoe, Wit Cellars, and Dusted Valley, to name a few.
Make it a point to try more Washington State sparkling wines in 2023. They're refreshing, versatile, food-friendly, and are made in a wide range of styles and dryness levels by using a number of varietals. Cheers to you and wishing you and yours all the best in the New Year!