Washington Wine of the Week – Selections for Spring, 2022
For the week of June 19, 2022: Malaga Springs Winery 2016 Malbec – This fine effort from winemaker/owner Al Mathews – a mature Malbec that still has plenty of cellaring potential – deserves your attention. Cedar and toasted walnut aromas fill the glass, with upfront flavors of black currant and Marionberry that transition into brighter raspberry and pomegranate. The finish is complex and intriguing with savory notes of white pepper and leather contrasted by touches of sweet plum. Big, textured tannins make this a powerhouse wine that should stand up to that juicy, T-bone steak prepared on your outdoor grill. The winery is located just southeast of Wenatchee and this wine's particular label series is fun, colorful, and eye-catching.
For the week of June 12, 2022: Canoe Ridge Vineyard 2018 Summit Series Cabernet Sauvignon – Wow. This gorgeous wine, sourced from the Walla Walla Valley's Dwelley Vineyard is a picture-perfect representation of the amazing Cabernets you'll find from Washington State wineries. The balance between fruit, tannins, and acidity is seamless, and the flavors are prevalent without being overwhelming. Lovely, dark berry aromatics combine with blackberry, ripe plum, and black cherry fruit that linger on the palate with both structure and grace. You could easily pair this with prime rib or filet mignon, but a large glass for contemplative sipping may be the best way to enjoy it.
For the week of June 5, 2022: Succession Wines 2021 Chenin Blanc – This elegant white wine is perfectly suited for springtime sipping or served alongside a chilled salad, prawns or scallops. Floral aromatics start you off, with juicy pear, white peach, and lychee fruit on the palate. There's also a nice, edgy quality to the finish of this wine, accentuated with crisp Granny Smith apple, green melon, and lemon-citrus flavors. Chenin Blanc is a bit difficult to find on the Washington wine scene, but this Lake Chelan winery produced 216 cases of the varietal and features it on their list of current releases.
For the week of May 29, 2022: Bertelsen Winery 2017 Malbec – This exquisitely crafted Malbec from the Skagit County winery is a stunner from start to finish. Intensely colored with a flavor profile to match, it opens with generous blueberry, brambly blackberry, and ultra-dark cherry flavors that are capped with spicy notes of clove and allspice and nicely integrated tannins. The wine displays great depth and complexity and is probably in its 'sweet spot' of maximum enjoyment. Buy it and enjoy it now. Sourced from Washington's Red Mountain AVA.
For the week of May 22, 2022: Chelan Ridge Winery 2016 Estate Vineyard Syrah – Looking for a sinfully delicious Syrah worth savoring? This Lake Chelan AVA selection will certainly work well with food, but sipping it on its own may be the best way to enjoy it. Aging beautifully in the bottle with no signs of letting up, it opens with a whiff of white pepper followed by big flavors of plum, blueberry, and blackberry compote. Baking spices come through on the finish, along with a nice streak of acidity to balance everything out. If you're in the Lake Chelan area, be sure to stop by the tasting room to enjoy the wines along with one of their house-made, wood-fired pizzas, which are absolutely to die for.
For the week of May 15, 2022: Tipsy Canyon Winery 2019 Melange Noir – Chelan Valley's Mark and Tami Garvin seem to have come a long way in a relatively short period of time. Since they purchased the site for their winery in 2013, they've more than established themselves with great tasting wines in one of the most perfectly located tasting rooms in the area. This five-varietal Bordeaux blend is simply gorgeous, with generous raspberry and plum flavors, nice acidity, and a silky-smooth finish with trailing notes of clove, cinnamon, and milk chocolate. Sourced from four nearby vineyards including Amos Rome and Antoine Creek.
For the week of May 8, 2022: Callan Cellars 2020 Picpoul – Picpoul is a Rhone Valley variety that is primarily used for blending purposes in scant quantities by Washington wineries. There are even fewer wineries that bottle it as a stand-alone wine; Grammercy Cellars and Callan Cellars are just two that come to mind. Woodinville's Lisa Callan does an absolutely amazing job with this refreshingly flavorful selection that opens with intense aromatics of wet stone, orange blossoms, and Old World, Riesling-like petrol. Juicy citrus and ruby red grapefruit flavors shine through, with hints of orange zest on the finish. Try this wine with shrimp-filled potstickers and a dipping sauce of citrus soy, sesame oil, and rice vinegar and you'll have discovered an unlikely food/wine combination that will leave you swooning. Sourced from Boushey Vineyards in the Yakima Valley, located east of Sunnyside.
For the week of May 1, 2022: Vartanyan Estate Winery 2017 Carménѐre – Winemaker Margarita Vartanyan has seemingly mastered this Bordeaux-based red varietal…and she has the gold medals to prove it. Her latest release begins with a core of brambly blackberry fruit surrounded with beautiful, complex layers that include sweet tobacco, leather, espresso, and chocolate. Nuances of slate, minerality, and white pepper also reveal themselves on a lengthy, thought-provoking finish. While perfectly wonderful for sipping, this wine's versatility will also allow it to pair nicely with pork tenderloin, braised beef or even a barbequed steak.
For the week of April 24, 2022: Revelry Vintners 2021 Rose' – Rose' season is definitely upon us, and this newly released selection from Walla Walla winemaker Jared Burns is a stunner. Pale pink, with delicate aromatics of peach blossom and apricot followed by even more stone fruit and crisp, green melon flavors on the palate make this wine a Rose' lover's dream. The blend of about 2/3 Grenache and 1/3 Cabernet Franc was sourced from four Eastern Washington vineyards. The wine is also produced in a must-try sparkling style, and the microscopic bubbles give it a creamy texture that will almost certainly put a smile on your face.
For the week of April 17, 2022: Tulip Valley Winery 2019 Gewurztraminer – It's Easter Sunday, and if you're having the traditional baked ham for dinner, this selection from the Skagit Valley winery may be the perfect wine pairing choice. This wine absolutely explodes with spicy/floral aromatics of white flowers, ginger, and white pepper, with mouth-wateringly delicious kiwi, starfruit, and melon on the mid-palate. The finish is slightly sweet without being cloying and provides a perfect contrast to the salty/smoky components of the ham. Double Gold medalist at the 2021 Bellingham NW Wine Competition and Double Platinum winner at the 2021 Great Northwest Wine Platinum Judging.
For the week of April 10, 2022: Silver Totem 2018 Cabernet Sauvignon – Looking for a classic interpretation of Washington Cab for under $20? This selection from the state's Horse Heaven Hills AVA will check those boxes and keep you coming back for more. Opening aromas of cherries, plums, and cedar transition into darker fruit flavors of black currant and juicy Marionberry. The silky-smooth, slightly savory finish is capped with a spritz of black pepper along with a suggestion of toasted oak. Highly enjoyable by the glass, but bring on something beefy to pair it with and you've got an unbeatable combination.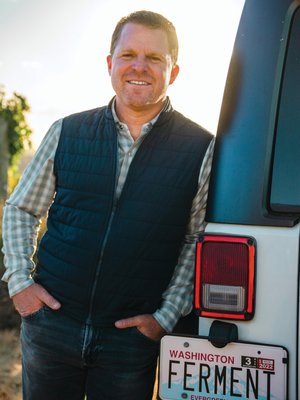 For the week of April 3, 2022: Figgins Family Wine Estates Toil Oregon 2019 Chardonnay – Walla Walla Winemaker Chris Figgins stretches his Washington boundaries a bit by delving into the Willamette Valley to source this tasty Chardonnay. Practically iridescent with its bright yellow color, the wine opens with a whisper of butterscotch on the nose. The flavor palate is packed with starfruit, pineapple, and ripe nectarine that carry over to a finish that's highlighted with the same bright, mouth-watering fruit. The 2020 vintage of 140 cases is scheduled for release this spring.
For the week of March 27, 2022: Cadence Winery 2019 Coda – Seattle winemakers Ben Smith and Gaye McNutt have crafted this beautiful Bordeaux blend that reveals surprises with every sip. Violets and spicy mixed berry aromatics dominate the opening stanza, and a base of wild raspberry fruit is followed by layers of licorice, eucalyptus, and black tea. The slightly structured finish reveals nuances of cocoa powder, vanilla, graphite and a hint of minerality. Sourced from Washington's Red Mountain AVA, Coda is composed of 48% Merlot, 25% Cab Franc, 18% Petit Verdot and 9% Cab Sauv.
For the week of March 20, 2022: Springtime is Rose' Time! – If there were such a thing as "Rose' Season," spring would come to mind as the choice for many. Yes, we know that Rose' is enjoyable year-round, but there's just something about coupling this wine with the promise of warmer weather, longer daylight hours, and more time spent outdoors that makes it the perfect springtime beverage.
Today, it seems that most every Washington winery produces a Rose'… and that's a very good thing! Some notable recent releases include Chelan's Tunnel Hill Winery Estate Malbec Rose', Brian Carter Cellars' Abracadabra, Whidbey Island's Spoiled Dog Winery Rose' of Pinot Noir, and from Walla Walla: the L'atitude 47 Pink Robin Rose' and Bergevin Lane Vineyards Linen Rose'. Drink these wines when they're young, well-chilled, and in the company of good friends.