Washington Wine of the Week – Selections for Winter, 2022

For the week of March 13, 2022: Hedges Family Estate 2017 La Haute Cuvee – Sarah Goedhart does an outstanding job with this Red Mountain Cabernet Sauvignon, which displays the concentrated fruit flavors you'd expect from a Red Mountain Cab, framed with delicate touches that may just surprise you.
Complex, perfume-like aromatics of violets and plums start you off, with a core of blackberries, dark cherries, and gamey meats. The layered finish is accented with an incredible array of spices from nutmeg to white pepper, and firm tannins that will soften beautifully with a bit of aeration (or a good five years more in the cellar). Does the wine work with a pepperoni pizza? No problem! A medium-rare porterhouse steak? Now we're talking!
For the week of March 6, 2022: Coyote Canyon Winery 2020 Downtown Roussanne – Roussanne still barely registers a blip on Washington's wine production radar, but this full-bodied white has certainly found a place among many of the state's wineries and into the cellars of wine enthusiasts. This gold medal-winning effort from Prosser winemaker Justin Michaud is packed with tropical fruit flavors and aromas of papaya and mango, and the big, round, melt-in-your-mouth finish is brimming with pear and baked Golden Delicious apple. Roast turkey or chicken should be at the top of your list for food-paring partners.
For the week of February 27, 2022: Fly Rod Cellars 2018 Turk's Tempranillo – Convergence Zone Cellars' Assistant Winemaker Troy Mandeville gets exceptionally high marks for this exquisitely crafted Tempranillo from Washington's unassuming, often overlooked Snipes Mountain AVA. Floral notes of jasmine and violets fill the glass, with lean cherry and strawberry flavors backed by deft touches of roasted coffee, cured meats, and toasted walnuts. The slightly smoky finish is long and silky and puts a quiet exclamation point on an overall elegant wine. Only 86 cases produced.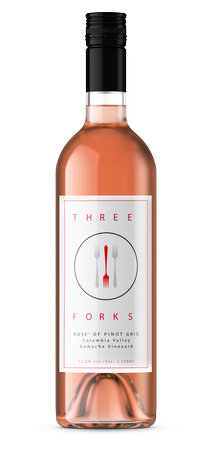 For the week of February 20, 2022: Three Forks 2020 Rose' of Pinot Gris – Winemaker Scott Greenberg hits a grand slam with this second label from his Convergence Zone Cellars winery in North Bend. Made from a rather non-Rose' grape, this wine is visually stunning with a striking neon-salmon color backed by a tangy/sassy flavor profile. Wild strawberries and crisp, green melon start you off, with a splash of citrusy blood orange and tangerine to follow. The finish sings with a twist of orange zest and underlying notes of white ginger. Great anytime of year on its own; pairings with shrimp or fried calamari also come to mind as excellent food choices. A well-deserved recipient of a Double Gold medal at the 2021 Bellingham NW Wine Competition. Sourced from Gamache Vineyard, located in south central Washington about 25 miles north of the Tri-Cities.
For the week of February 13, 2022: Calvario Cellars 2016 Malbec – Newcomer Noel Perez worked with Tri-Cities winemaking guru Victor Palencia before Perez launched his own label, and this gem of a wine indicates he's off to a tremendous start. Beautifully crafted and exquisitely balanced, this Wahluke Slope-sourced wine is unmistakably Malbec, with understated brambly blackberry fruit from start to finish. Additional layers suggest macerated strawberries, candied cherry, and black plum along with hints of nutmeg, sweet tobacco, and cedar on a silky-smooth finish. Gold medal winner at the 2021 Bellingham NW Wine Competition and available for purchase at the Palencia Winery website.
For the week of February 6, 2022: Dynasty Cellars Non-Vintage 400 Strong – "400 Strong" refers to the number of Blue Throated Macaws that remain on the planet, which is up from what was once estimated to be as little as 175. Bellingham winemaker Peter Osvaldik has formed a non-profit (Barba Azul USA), dedicated to the preservation of these beautiful birds, and 100-percent of the profits from the wine go to this worthy charitable organization.
This red blend of Cabernet Sauvignon, Zinfandel, and just a splash of Merlot is nicely complex and absolutely delicious. Juicy red currant, dried cranberry, and black raspberry fruit lead off, with a subtle transition into more of a savory/spicy flavor profile with touches of clove, white pepper, and crushed herbs. Pliable tannins on the finish also make this an instantly enjoyable choice…and given the extremely reasonable $22-a-bottle price and the cause it supports, a case purchase seems like a no-brainer.
For the week of January 30, 2022: Rain Shower Cellars 2017 Red Wine Blend – Coupeville winemaker Sean Merrill does a fine job with this tasty red wine using Malbec, Merlot, and Cabernet Franc grapes from Antoine Creek Vineyards, located near Lake Chelan. There's plenty of big, juicy, wild blackberry fruit throughout, balanced by slightly savory nuances of crushed herbs and a spritz of white pepper. The velvety-soft finish suggests dried cherries, dark chocolate, and espresso with nicely integrated tannins. Available only at the winery tasting room on Whidbey Island, and well worth the trip.
For the week of January 23, 2022: Succession Wines 2020 Chardonnay – Lake Chelan winemaker Brock Lindsay absolutely nails it with this won't-last-long current release that is practically guaranteed to put a smile on your face. A sensory delight, this Chardonnay greets you with a striking, straw-yellow hue followed by butterscotch aromatics and layers of guava, papaya, and pineapple tropical fruit. Ripe peach and quince flavors linger in the background of a big, round finish along with touches of toasted oak, banana, and vanilla-butter. Decadent and delicious! Sourced from Conner Lee Vineyards in the Royal Slope AVA; only 166 cases produced.
For the week of January 16, 2022: Lost River Winery 2018 Barbera – John Morgan has only been making Barbera for three years, and his latest release of this Italian-based varietal is mind-numbingly good. Gorgeous blackberry and black currant aromas and flavors fill the glass, with underlying notes of chocolate, toffee, licorice, and fig. The finish is big and round with spicy accents and great staying power. This Barbera carries a darker color and more heft than its European counterparts and that makes it an instant classic for New World/Washington wine enthusiasts who are likely to prefer its full-bodied style. Try it with pork chops, pheasant, or sauteed mushrooms or pour yourself a glass and savor it on its own.
For the week of January 9, 2022: Zerba Cellars 2018 Estate Dolcetto – Although it's a stone's throw across the state line, Washington likes to consider Zerba as one of it's own, especially since the Oregon winery's Cockburn Vineyard is located within the federally-designated Walla Walla Valley AVA. This incredible wine starts with lovely floral aromatics, and the wonderfully complex flavor profile includes both understated fruit and savory components. Forest floor, mushrooms, and sweet cedar are complemented with cherry licorice, dried red currant, and blueberry flavors; and the finish lingers with touches of walnut, butterscotch, and gentle smoky accents along with bracing acidity. Double gold medalist at the 2021 Bellingham NW Wine Competition and Platinum winner at the Great Northwest Wine 2021 'Best of the Best' Judging.
For the week of January 2, 2022: Upcoming new releases from Palencia Winery – Victor Palencia has a full slate of new releases lined up for 2022. My tasting notes for several of these wines can be found in a separate post under "New Northwest Wine Recommendations." Cheers!
For the week of December 26, 2021: Isenhower Cellars 2019 Blanc de Blanc Sparkling Roussanne Extra Brut – Walla Walla winemaker Brett Isenhower takes a very "non-sparkling" varietal, Roussanne, and crafts it into a refreshing wine made in the Methode Champenoise style. Lightly golden in color, the flavor profile opens with suggestions of Rainier cherry and stone fruit along with touches of almond and citrus rind. Ishenhower keeps the finish dry and crisp, deftly balanced with a note of rounder, baked apple fruit. Grapes were sourced from the Yakima Valley's Olsen Ranch Vineyard.
For the week of December 19, 2021: Bookwalter Cellars NV15 Notebook Red Wine – This latest version of the Notebook label from the Richland winery spans multiple vintages (hence the non-vintage designation) and multiple varietals (31% Cabernet Sauvignon, 24% Syrah, 23% Merlot, 22% Malbec). Lots of Marionberry and black plum fruit, spicy accents, and supple tannins make this wine instantly enjoyable and a pleasure to taste. Priced at around $10 to $15 a bottle, it's an affordable, crowd-pleasing red that's a great choice to serve during the holidays and a nice middle-of-the-week wine any other time of the year.