Washington Wine of the Week – Selections for Fall, 2019
Posted by Dan Radil
Posted on December 15, 2019
For the week of December 15, 2019: VanArnam Vineyards 2015 Merlot – Kent and Allison VanArnam are doing a terrific job at their Zillah winery, with a great tasting room overlooking the Yakima Valley and a devoted fan base that is dedicated to the winery's well-made wines. This Merlot strikes a nice balance between a fruity and savory flavor profile with cassis, bell pepper, and cherry tomato flavors followed by a whisper of cinnamon and nutmeg spice on a slightly chocolaty finish. Try it with a slow-cooked pot roast and Yukon Gold potatoes for a dreamy food-wine pairing.
For the week of December 8, 2019: Townshend Cellar Non-Vintage T3 Red Wine – The Townshend family has been a force on the Spokane wine scene for two decades, and since day-one the focus has been on producing solid, consumer friendly, affordably priced wines. The T3 is a prime example, with grapes sourced from a variety of Columbia Valley vineyards that have been aged a minimum of 30 months in French and American oak. This current release is a combination of Cabernet Sauvignon, Merlot, and Cabernet Franc, and it's packed with dark fruit flavors of plum and currant, touches of savory herb, and a flourish of vanilla bean and toast. The finish balances between slightly textured and slightly silky, suggesting that some older vintages have been incorporated into the mix. At about $20 a bottle, it's an attention-grabbing overachiever that makes it a terrific value.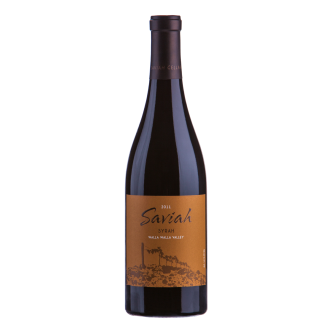 For the week of December 1, 2019: Saviah Cellars 2017 Walla Walla Valley Syrah – Proof that nice guys make great wine, here's a selection from Saviah owner/winemaker Rich Funk that should be on your list of well-priced Syrahs to try from the Walla Walla Valley AVA. It's slightly smoky and brooding, with black currant and blackberry flavors along with a meaty/savory/gamey character and a long finish with a touch of black pepper and minerality. Goose, duck, or prime rib come to mind as excellent food-pairing partners. Sourced from four top vineyards: Funk Estate, Watermill, Lewis and Anna Marie.
For the week of November 24, 2019: Pacific Rim Winery 2018 Sweet Riesling and 2016 Solstice Vineyard Riesling – A couple more must-have white wines to serve with your Thanksgiving dinner; the Sweet Riesling (about $10 to $12) has lovely honeysuckle and floral aromas with mouth-watering flavors of tropical fruit and ripe peach, while the Solstice (about $24) resembles a fine European-style Riesling with petrol and brioche aromatics, grapefruit flavors and a dry finish with spicy accents. The Solstice also has great aging potential…if you have the discipline to tuck it away in your cellar for a few more years.
For the week of November 17, 2019: Pepper Bridge Winery 2015 Merlot – This incredible wine greets you with lovely red fruit aromas and flavors of plum and cherry, while small amounts of Cabernet Franc and Malbec add notes of licorice, cracked pepper, and brambly berry to the finish. It's assertive but rounded with plush, velvety undertones and indicative of the maturation of Washington Merlot as one of the state's top varietals. Sourced from a combination of estate-grown grapes as well as nearby Seven Hills and Octave Vineyards.

For the week of November 10, 2019: Lagana Cellars 2018 Breezy Slope Vineyard Pinot Noir Rose – Pinot Noir sourced from the Walla Walla Valley? Believe it! Winemakers Jason Fox and Todd Bernave have crafted an outstanding wine from this small vineyard located just south of the Washington border near Milton-Freewater, Oregon. It's packed with cranberry and red currant fruit along with bracing acidity and a flourish of wild strawberries, tangerine, and orange zest on a bone-dry finish. A perfect complement to your upcoming Thanksgiving Day turkey dinner and a steal at only $20 a bottle. Order from the winery web site at www.laganacellars.com
For the week of November 3, 2019: Amavi Cellars 2018 Semillon – Drink more Washington State Semillon! This sometimes overlooked white varietal displays a flavor profile that's often unmatched by other white wines; and this selection from Amavi's 100-percent estate grown vineyards offers all you need to know about this underappreciated grape. Honeysuckle, clover, and alfalfa aromas and flavors stand out, and the wine carries a round, unctuous quality that's accented with notes of bees wax, gentle citrus, white peach, and a near honey-like finish. Tasty, complex, and readily available…so what are you waiting for?
For the week of October 27, 2019: Forgeron Cellars 2016 Chardonnay – From the moment you pour this wine, you recognize that it's going to be special. The beautiful, golden tint carries a viscous quality as it coats the glass and opens with fragrant aromas of lemon creme and baked apple. Expressive flavors of tropical fruit, pineapple upside-down cake, and nectarine/peach follow, with a lengthy, silky finish capped with a note of warm vanilla bean. Sourced from a number of vineyards throughout the state including Crawford in Yakima Valley, Weinbau in the the Wahluke Slope, and Walla Walla's Birch Creek.
For the week of October 20, 2019: Claar Cellars 2015 Cabernet-Merlot – Looking for a solid, well-priced Washington red at an affordable price? At about $15 a bottle, this selection from the Pasco-based winery should make everyone happy. Fresh blackberry aromatics and flavors, a touch of green herbs, and slightly chalky tannins come to the forefront; the finish lingers with undertones of dried black cherries, chocolate, and cocoa powder. Claar Cellars' winemaker, Dave Harvey, steps in here after a nice tenure at Walla Walla's Bergevin Lane Vineyards, and makes Claar a winery to keep your eye on as time progresses.
For the week of October 13, 2019: Nefarious Cellars 2016 RX-3 – There are a lot of husband-and-wife winemaking teams in Washington, and Dean and Heather Neff come to mind as one of the top-tier couples…producing great wines from their beautiful facility near the south shore of Lake Chelan. Their 'RX-3,' a combination of Grenache, Syrah, and Mourvedre hits all the right notes, with a base of cherry and red plum fruit followed by green tea and gentle clovy/cinnamon-spice finishing notes. The wine's flavors, tannins, and acidity are perfectly balanced, and prime rib, duck, and pork tenderloin come to mind as potentially excellent food-pairing partners.
For the week of October 6, 2019: Mellisoni Vineyards 2016 Forte Rosso – Chelan's Rob and Donna Mellison will have you swooning over this big, bold blend of equal parts Cabernet Sauvignon and Malbec. Blackberries, Liguria cherry, fig, and chocolate flavors are accented with floral notes and a touch of mint. Big tannins on the finish suggest a bit of aeration time before enjoying or, better yet, pop this one in the cellar for another three to five years as it promises to only get better. Outstanding!
For the week of September 29, 2019: Dynasty Cellars N/V Irresponsible Red Wine – Italy meets France in this completely unconventional blend of Barbera, Syrah, and Merlot that works on every level. Gorgeous red fruits of currant, cherry, and plum are backed with nice finishing acidity and just enough tannic structure for character without preventing it from being instantly enjoyable. This is a versatile wine that should pair well with everything from pork chops to pasta with Bolognese sauce, and at just $18 a bottle, you can afford to stock up on it by the case.
For the week of September 22, 2019: Bayernmoor Cellars 2017 Estate Vineyard Pinot Noir – Owner Larry Harris is on a mission to produce some of the best Pinot Noir in the world…and he's off to a great start with this inaugural release, sourced from the winery's estate vineyard near Stanwood. Bayernmoor Winemaker Brian Carter has crafted this gem of a wine, which leads off with lovely floral and herbal aromas followed by flavors of strawberry, pomegranate, rhubarb, and a touch of vanilla bean. This wine is brimming with character, and yet there's a decidedly delicate quality hidden within this stunning, ruby-tinted package that will have you savoring every sip.