Washington Wine of the Week – Selections for Summer, 2019
Posted by Dan Radil
Posted on September 15, 2019
Uncategorized
For the week ending September 15, 2019: Chehalem 2018 INOX Chardonnay – This week we head south into Oregon's Willamette Valley for a Chardonnay that's simply too good to ignore. Despite it's stainless steel upbringing, this is a wine with considerable depth, character and flavor. The lemon/citrus core is surrounded with a lovely, creamy texture, followed by notes of minerality and baking spice. Throw in the $20-a-bottle price tag and you've got a Chardonnay that strikes the perfect balance between so-so unoaked versions and overly heavy barrel-aged options. A great complement to a variety of seafood, pork, or poultry entrees.
For the week ending September 8, 2019: Hedges Family Estate 2018 DLD Le Rose – Even as summer begins to wind down, be sure to keep Rose on hand as an anytime wine with incredible versatility. This spectacular selection from winemaker Sarah Hedges Goedhart is a combination of Syrah, Grenache, Mourvedre, and Counoise. Lovely stone fruit and berry aromatics lead to flavors of green melon, papaya, and wild strawberry, while the wine's fruit component is perfectly balanced with a nice herbal character, including hints of celery seed and white pepper. Keep this in mind as your year-round, go-to Rose, especially as a lead-off wine to serve with mild cheeses and a freshly baked baguette.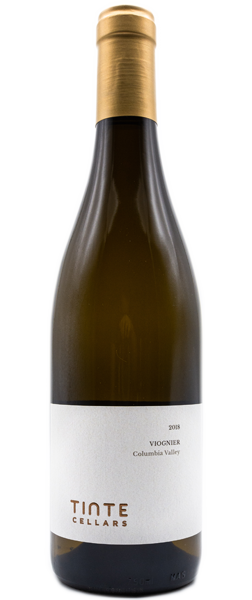 For the week September 1, 2019: Tinte Cellars 2018 Viognier – Winemaker Noah Fox Reed hits it out of the park with this Old World-style Viognier that is complex, layered, and full of surprises. White flowers, delicate peach and nectarine, undertones of tropical fruit, and elements of spice highlight this gem of a wine. On the finish, everything melts into a round, lengthy crescendo with hints of lemon chiffon. Sourced from a combination of grapes from the Conner Lee and Gamache Vineyards. Gold medal winner at the 2019 Bellingham Northwest Wine Festival.
For the week of August 25, 2019: Sol Stone Winery 2018 Chardonnay – Husband-and-wife winemaker/owners Buzz and Karen Buckingham do a beautiful job with this gold-medal winning Chardonnay from their Woodinville tasting room. Despite the use of neutral oak barrels, they've managed to coax out some buttery and creme brulee nuances to complement the lemon tart finish. In-between you'll find generous melon, pear, and honey-like flavors that give this wine a full-bodied feel without being overbearing. In short, it's a perfectly balanced, dreamy little wine that will make you put down that glass of unoaked Chardonnay and give it a try.
For the week of August 18, 2019: Thurston Wolfe 2016 Petit Verdot – Dr. Wade Wolfe and his wife Becky Yeaman have quietly been at the forefront of Washington's wine industry for over 30 years. During that time, the hallmarks of this Prosser-based winery have been simple: true-to-the-varietal wines, consistency, quality, and reasonable prices. This masterpiece of a Petit Verdot took Best in Show honors at the 2019 Bellingham Northwest Wine Festival. It displays spicy and smoky aromatics, powerful cassis, anise, and black plum flavors, supple tannins, and an overall richness that make it a highly deserving award-winner. Sourced from the Double Canyon Vineyard in Eastern Washington's Horse Heaven Hills AVA. Only 50 cases produced so buy it now!!
For the week of August 4, 2019: Naches Heights Vineyard 2016 Can-Can White – Winemaker Phil Cline must have had fun while he was making this strange but wonderful white wine blend of Riesling, Grenache Blanc, Viognier, Marsanne, and Gewurztraminer. Crazy-beautiful nose of pear jam, Fruity Pebbles, and fresh gardenias followed by luscious nectarine and melon flavors with an off-dry finish. Great mouthfeel, great acidity, and great price – only about $15 – and that should make every white wine lover happy.
For the week of July 28, 2019: Jones of Washington 2018 Rose of Syrah – Another practically-perfect selection for the summer months, this award-winning pink gem from winemaker Victor Palencia opens with lovely rose petal aromatics followed by expressive strawberry, white raspberry, and tangerine flavors. The finish is capped with a vibrant, linen-crisp splash of watermelon and cranberry. Sourced from the Ancient Lakes AVA in Central Washington.
For the week of July 21, 2019: Forgeron Cellars 2016 Imaginarium Red Wine – When winemaker Cody Janett took over for retiring Marie-Eve Gilla last year, he had some awfully big shoes to fill. But the transition has been seamless, and this wine is a great example of Janett's winemaking prowess. Predominately Merlot, along with Syrah, Grenache, and Malbec, this tasty blend features brambly raspberry and marionberry fruit, slightly chalky tannins, and touches of ginger and white pepper on the finish…all perfectly balanced. Toss in the eye-catching artwork on the label and the crazy-good under-$25-a-bottle price tag and you've got a wine that, quite simply, should not be missed.
For the week of July 14, 2019: Vartanyan Estate Winery 2015 Dessert Wine – This one-of-a-kind wine starts with Riesling grapes that have been fortified and allowed to age in oak barrels for three years. The result is some pretty amazing stuff: it's sherry-like, with a big 20% alcohol level that's nicely balanced by the grape's natural acidity along with dried apricot, fig, and toasted walnut flavors on a long, lingering finish. A fine effort from winemaker Margarita Vartanyan, who thinks outside the box and comes up with a wine that's guaranteed to stir up your next wine-related conversation.
For the week of July 7, 2019: GLM Wine Company 2017 Rock Flour Sauvignon Blanc – From a source you've probably never heard of – Open Gates Vineyard in Wenatchee – comes this thought-provoking white wine from Blaine winemaker Tom Davis. There's a myriad of aromatics and flavors to this wine…field flowers, clover, alfalfa, spearmint, and allspice to name a few; but the overwhelming character is one of freshness and uniqueness. That makes this wine, with a tiny quantity of only 55 cases produced, worth trying and contemplating sooner rather than later.
For the week of June 30. 2019: Dynasty Cellars 2018 DC Rose' – Bellingham winemaker Peter Osvaldik takes a rather unique approach in crafting his Rose' wines; He starts with a base of 95% Riesling and then literally squeezes in 5% Malbec (along with a hint of Moscato for aromatics). The result is a sassy, tasty pink wine with vibrant flavors of kiwi, strawberry, green melon, and pie cherry. The finish carries just a hint of sweetness and crisp, mouth-watering acidity. An outstanding selection to serve ice-cold when the weather gets warmer and wine is your beverage of choice.
For the week of June 23, 2019: Barnard Griffin Winery 2017 Syrah – Looking for an easy-to-drink, everyday red wine that won't cost a lot and yet delivers on flavor and character? This excellent selection from Richland's Barnard Griffin will check all those boxes and may make you wonder how a wine this reasonably priced (around $13 to $15) can taste so good. Dark plum, blueberry, brambly blackberry and touches of cinnamon-spice fill the glass, while a nice splash of acidity and a soft, yet slightly structured finish make this a perfect wine to pair with grilled meats during the summer barbecue season.