Today and next week I'll focus on wine selections that will complement your Thanksgiving Day meal, keep your guests happy, and make you look like sage-like wine connoisseur.
As I've mentioned in years past, variety is the key. Keep plenty of different wine options available at the dinner table and you can hardly go wrong.
And don't worry about precise food and wine pairings. The Thanksgiving Day meal is generally forgiving on this point because the traditional components – turkey, potatoes and gravy, stuffing, and vegetables – typically aren't heavily seasoned.
That makes selecting a wine to serve with them much easier because milder seasonings and spices won't interfere with the flavor components of the wine.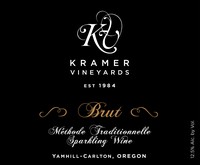 There are a number of good white wines you can choose from. I'd lean towards lighter to medium-bodied whites (which I'll feature today), although full-bodied whites and even some red wines may work just as well (I'll give you those suggestions next week).
Here are a few white wine recommendations to get you started:
Kramer Vineyards 2011 Brut (about $26) – There's absolutely no reason you can't lead off with a versatile sparkling wine or Champagne for Thanksgiving. Sourced from the winery's vineyards just southwest of Portland, Oregon, this somewhat fruity but dry sparkler carries big, yeasty/apple aromatics with flavors to match and a note of steely minerality on the finish.
Cedergreen Cellars 2011 Sauvignon Blanc (about $17) – This Columbia Valley sauvignon blanc from the Kirkland winery really impressed me with its green melon aromas and flavors, good acidity and pleasant, slate-like quality. It drinks impeccably clean and will serve as an excellent starter wine that can be paired with seafood as well as turkey or chicken.
Bonair Winery and Vineyards 2011 Dry Gewurztraminer (about $13) Zillah's Gail and Shirley Puryear have created a heck-of-a-deal white wine that will provide a nice complement to your Thanksgiving meal. Stone fruits on the nose and the palate combine with flavors of ruby grapefruit, a hint of spice and an absolutely bone-dry finish.
Clean Slate 2012 Riesling (about $10) – This vibrant, bargain-priced German riesling carries a ton of fruit flavors without any of the cloying sweetness. Pear, pineapple and lemon lead off, with a smack of crisp Fuji apple and key lime on the finish.
Gilbert Cellars 2012 Riesling (about $20) – Slightly sweeter, but still perfectly balanced with brisk acidity, this outstanding Washington riesling displays mouth-watering green apple, honeydew, and citrus notes. A lovely, understated whisper of fresh clover lingers in the background.