This article originally appeared, in part, in the April/May, 2016 issue of Bellingham Alive magazine.
If you think that most of Washington's wineries are large, faceless, corporate-owned entities you might be in for a surprise. In fact, the vast majority of the 850-plus wineries in the state are small, family-owned enterprises that oversee every phase of the winemaking process…from crushing, fermenting and aging the grapes, to bottling, marketing, and distributing the finished product.
This hands-on, personal touch is the hallmark of many smaller wineries, and the "start-to-finish" process requires long hours and dedicated service. But most family-maintained wineries feel this approach results in a quality, attention-to-detail product…and they wouldn't have it any other way.
Here's a look at two successful Washington wineries and the people behind these 100-percent family-owned and operated businesses:
DYNASTY CELLARS
Peter and Olga Osvaldik immigrated to the United States from Czechoslovakia with their son, Peter Jr., in 1983. The Osvaldiks moved to Bellingham in 1990 and established Dynasty Cellars five years later, drawing on over 150 years of winemaking experience from Peter's paternal family.
After progressing through the "hobby phase," Dynasty had its first commercial release in 2006. "I remember our first commercial wine…seven tons of grapes (at about 100 pounds at a time) through a small ratchet press. It was crazy," Peter says with a laugh. "I still have that press as a reminder of our beginnings."
From its inception, every task associated with the winery has been a family affair. Peter and son Eric work together through the crushing and production phases while Olga and their daughter Monica primarily work in the tasting room and on special events. "We don't have titles," Peter says. "We are whatever we need to be that day!"
The winery currently sources all of its grapes from Les Collines Vineyards in Walla Walla, reflecting Peter's desire to produce single vineyard/single varietal wines.
Current releases include the 2012 vintages of Cabernet Sauvignon, Syrah, a gorgeous Merlot with silky-soft dark berry flavors, and a bold Zinfandel with blackberry fruit and spicy, peppery finishing notes.
Scheduled for release in April of this year are a 2015 White Wine blend of 90-percent Chardonnay and 10-percent Semillon, and a 2015 Off-Dry Riesling. The remainder of 2016 will include releases of a number of 2013-vintage red varietals including Tempranillo, Primitivo, Syrah and Merlot.
The winery's sense of family is apparent from the minute one steps into the tasting room, where guests are warmly greeted and often asked, "What can I pour for you?" This, coupled with the care that goes into every bottle, has made Dynasty Cellars a favorite among local wine enthusiasts.
Downplaying credit for his winemaking efforts, Peter humbly notes, "The fate and quality of the wine is determined at the end of fermentation. You're the guardian; (just) keep the barrels safe and sound until you're ready to bottle."
Dynasty Cellars is located at 2169 East Bakerview Road in Bellingham and open Thursday through Saturday from 1 pm to 6:30 pm and Sunday from 1 pm to 5 pm. More information: dynastycellars.com.
TUCANNON CELLARS
Tucannon Cellars is located about 15 minutes west of the Tri-Cities, just outside the Red Mountain Appellation. The winery is named for the Tucannon River near the Blue Mountains in southeastern Washington and owned by father-and-son duo Phil and Ethen Warren and Phil's wife Danette.
Phil started producing wines in 2008, primarily, "to see if he could make a small batch of handcrafted wine for private consumption" notes Ethen. The elder Warren's wines became popular among friends who, "got so tired of waiting for the next batch they helped and supported him in the winery licensing process," Ethen recalls.
That took place in 2011, and Phil continued to produce wines in the garage at his Pasco home. Then, as a logical step in the growth of the winery, he purchased Oakwood Cellars on Red Mountain in February, 2014, where Ethen serves as tasting room manager and assistant winemaker while Danette handles the winery's administrative work.
At that time, Tucannon was primarily focused on making red wines. "We started out just doing reds, but we've really gotten more serious about white wines," Ethen says. That may be in part to a number of stainless steel tanks they acquired from Oakwood, which have been instrumental in the production of white wine varietals such as Chardonnay, Viognier, and Riesling.
In addition to sourcing grapes from the state's renowned Burgess and Alder Ridge Vineyards, to name a few, the Warrens have also planted two acres of estate-grown red varietals: Carménère and Mourvèdre.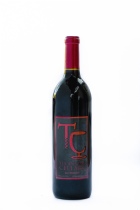 Other red wines that have just been released include a lovely 2012 Cabernet Franc, with dried red fruits, hints of milk chocolate, and sweet cedar on a lingering finish with a hint of earthiness; a 2012 Cabernet Sauvignon, with intoxicating aromatics of vanilla wafer, beeswax and meadow grasses followed by red cherry flavors and a touch of hazelnut; and an outstanding 2012 Merlot with black cherry and licorice on the palate, toasted oak accents, and a nice, textured finish.
Production has expanded to about 1,800 cases annually, but that hasn't had an effect on all the small details the Warrens address while operating their family-owned winery. "We still do everything by hand," Ethen says, and, noting his increasing involvement in all phases of the winemaking process, "I wouldn't be able to do it without my dad…and our friends are (also) still a tremendous help."
Tucannon Cellars' tasting room is located at 40504 North DeMoss Road in Benton City, just minutes north of Interstate 82, and open Thursday, Sunday, and Monday from 11 am to 5 pm and Friday and Saturday from 11 am to 6 pm. Wines can also be ordered on line at tucannoncellars.com.