Be Sure to Try These Wine Recommendations from Lake Chelan-Area Wineries
Posted by Dan Radil
Posted on October 24, 2021
The Lake Chelan American Viticultural Area (AVA) is one of Washington's most popular wine regions and home to over thirty wineries. The wineries are a perfect complement to the area's natural beauty and outdoor recreational activities by providing visitors with both indoor and heated-patio wine tastings and wine-related events during the off-season.
When planning a visit to any of these wineries, please note that reservations are likely to be required or highly recommended. While most Chelan wineries are open all year, many operate with reduced hours during the late fall and winter months. Plan accordingly, but also be prepared to take in some spectacular scenery along with an excellent selection of wines.
Here is a quick rundown on several Lake Chelan wineries along with a few recommendations of their current and soon-to-be-released wines – perfect any time of year, but especially enjoyable around the holidays:
Amos Rome Vineyards 2019 "The Machine" – Amos Rome is one of the area's "new kids on the block," having opened their current tasting room in September of 2020. Owner Tom Pettigrew grows about twenty-three acres of wine grapes at two different vineyards near the town of Manson that include varieties such as Riesling, Grüner Veltliner, Albariño, Pinot Noir, Syrah, and Malbec, to name a few.
A favorite of winemaker Travis Clark, who came on board in 2017, is Cabernet Franc, and Pettigrew notes that the winery's Cab Franc Rosé has been the by-the-glass Rosé pour at nearby Campbell's Resort for the past three years.
Later this year, Clark plans to release his 2019 "The Machine", an estate-grown blend of 72% Merlot and 28% Cabernet Franc that displays beautiful, fresh red and purple fruit capped with a savory/herbal finish. The wine was aged 18 months in 40% new oak barrels.
Rocky Pond Estate Winery 2017 Malbec Reserve – Shane Collins has been part of the Chelan Valley wine scene since 2007, and he joined Rocky Pond as Director of Winemaking a little over four years ago. He notes that this gorgeous 2017 Malbec Reserve was sourced from the winery's Double D Vineyards, which specializes in Bordeaux varietals and is located on the Columbia River just south of Lake Chelan.
Blended with a splash of Cabernet Sauvignon, the wine opens with lovely, violet and floral aromatics followed by blackberry and black currant fruit on a well-structured finish. An excellent serving partner with anything beef, this wine suggests even more promise with additional cellaring.
In addition to their downtown Chelan tasting room, Rocky Pond Winery has a west-of-the-Cascades location at Woodin Creek Village in Woodinville.
Tipsy Canyon Winery 2020 Pinot Blanc – Tipsy Canyon is another relatively new Chelan winery, and as the name suggests, it's a fun place to enjoy delicious wines while taking in panoramic views from the hillside-perched tasting room and grassy amphitheater.
Husband-and-wife owners Mark and Tami Garvin have recently begun growing their own estate grapes, including Chardonnay, Malbec, Cabernet Franc, Syrah, and about a half-acre of Pinot Blanc, which is more commonly found in British Columbia's Okanagan Valley than in Eastern Washington.
This wine is a stunner, packed with juicy citrus flavors of lemon and grapefruit, and laser-sharp acidity balanced by a hint of almond on the finish. The Tipsy Canyon 2020 Estate Reserve Chardonnay has just been released and should also be on your must-try list of Lake Chelan AVA-sourced white varietals.
Fielding Hills Winery 2018 Estate Tribute – Owner and founding winemaker Mike Wade and his wife, Karen, have created an elegant atmosphere at Fielding Hills, with a beautifully appointed tasting room and indoor and patio seating with lake views.
Mike notes that the winery's recipe for success is to use "the finest grapes, the finest ingredients, and the finest barrels, and really do it right," which is exactly what they've accomplished with their newly released 2018 Tribute.
The wine was crafted from estate grapes grown at Riverbend Vineyard, located near Mattawa in Central Washington. A blend of Merlot, Cabernet Sauvignon, and Syrah, it opens with ripe, black cherry aromatics and flavors that transition into currant and black raspberry fruit. The finish is complex and layered, with touches of baking spices, black pepper, and bittersweet chocolate.
Succession Wines 2019 The Rocks Syrah – Brock and Erica Lindsay do an outstanding job of creating a warm and welcoming experience at their winery, located on Lake Chelan's north shore. Brock heads the winemaking team while Erica literally takes care of everything else…right down to the chandeliers she custom-designed for the tasting room.
Brock notes that he strives for approachability and balance in his wines, drawing from an incredible 21 different vineyards in 11 AVAs. He really hits the mark with this excellent Syrah from the winery's Black Label series, sourced from The Rocks District AVA, located in the Walla Walla Valley just south of the Washington/Oregon border.
Centered around a core of understated licorice and inky black currant fruit, the wine carries notes of minerality, wet stone, and salinity along with an overall savory quality that make it an outstanding pairing partner to serve with duck or grilled meats and vegetables.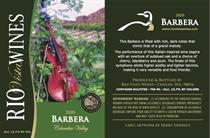 Rio Vista Wine 2019 Barbera – John Little planted his first vines about 20 years ago, just off the west bank of the Columbia River about ten miles north of Lake Chelan. He elevated his winemaking from hobby status to his first commercial release in 2007, making Rio Vista one of the area's older wineries.
Today, Little oversees seven acres of vineyards of 11 different varieties that include Cabernet Sauvignon, Viognier, Chardonnay, Merlot, and Tempranillo.
This Barbera features bright red fruits of plum, raspberry, and cranberry, with trailing notes of crushed herbs and spicy accents, all framed with the grape's signature acidity.
In addition to the picturesque Columbia River location (the only Washington winery accessible by boat), Rio Vista has a second tasting room in a log cabin in downtown Manson on the north side of Lake Chelan.
Cairdeas Winery 2016 Caisléan an Papa – Charlie and Lacey Lybecker originally started their winery in West Seattle before moving to Lake Chelan's north shore in 2012. The couple recently opened a new tasting room (which might be affectionately referred to as "The Barn"), that will provide them with much needed space to showcase their extremely popular wines.
Charlie has steadily become a master of producing Old World style wines, with a focus on varietals from France's Rhone Valley. With a nod to Chateauneuf du Pape, he's crafted this lovely Caisléan an Papa (the Gaelic translation of "Castle of the Pope"), which is still available as a library wine even though the 2017 and 2018 vintages have already sold out.
This blend of Grenache, Syrah, Mourvèdre, Counoise, and Cinsault – all sourced from Yakima Valley's Boushey Vineyards – traditionally displays incredible depth and elegance. Restrained red fruits of strawberry and cherry are followed by a layer of darker fruits along with earthy/spices nuances and capped by great finishing acidity.
Hard Row to Hoe Vineyards Whole Picture 'Au Naturel' Sparkling Cabernet Franc – Hard Row is owned by husband-and-wife Don and Judy Phelps, who double as the winery's vineyard manager and head winemaker, respectively.
The Phelps' have a long-standing tradition of utilizing organic farming and sustainable farming practices. And while serious about their winemaking, the winery's Chelan location has a great backstory that's lent itself to several slightly suggestive, all-in-good-fun labels. (The winery also has a second tasting room in Leavenworth.)
Judy's son Julian Shaver serves as Assistant Winemaker, and he crafted this gem of a sparkling wine that makes an excellent aperitif. It carries only the slightest orange tint along with juicy, fresh berry flavors and a streak of minerality.
Shaver notes that about 90% of their wines are sourced from the estate and other vineyards located within the Lake Chelan AVA. They include such perennial favorites as Riesling, Sauvignon Blanc, Orange Muscat, Cabernet Franc, Syrah, and Tempranillo.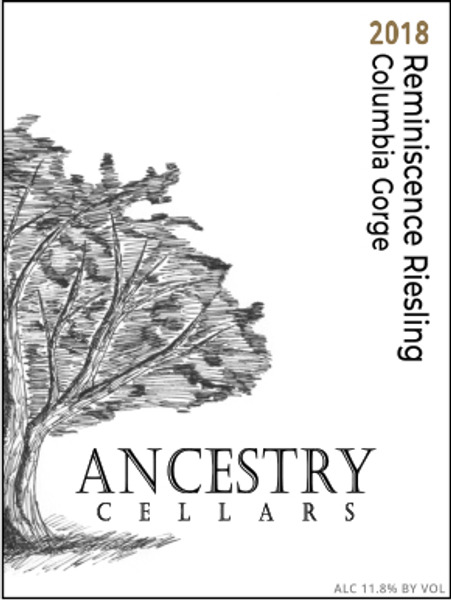 Ancestry Cellars 2020 Reminiscence Riesling – Winemaker and Gig Harbor native Jason Morin and his family moved to the Lake Chelan area a few years ago and absolutely love what he calls their "little piece of paradise" in north central Washington.
Although Morin produces several noteworthy red wines such as Malbec and Sangiovese, his white wines including Chenin Blanc, Sauvignon Blanc, and this particular Riesling really shine.
The soon-to-be-released Riesling was harvested from Rocky Pond Winery's Clos Chevalle Vineyard on the south shore of Lake Chelan. Mouth-watering white peach and Fuji apple flavors explode in the glass, with a whisper of residual sugar balanced by brisk acidity and minerality on the finish. It's bright, refreshing, and absolutely delicious.
In addition to their Lake Chelan tasting room in downtown Manson, Ancestry also recently opened a second location in Woodinville.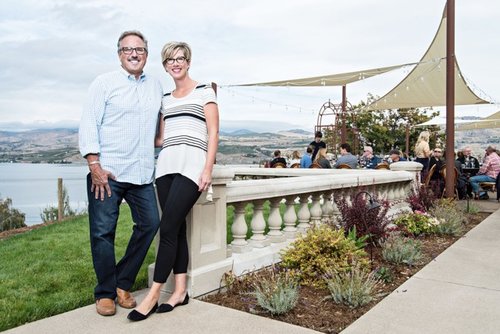 Siren Song Wines 2016 Grand Cru Syrah – With a European-style villa, tasting room, and spacious outdoor patio with sweeping lake views, Holly and Kevin Brown have taken inspiration from their worldwide travels to make their winery a first-class experience for wine lovers.
Weddings, special events, and Holly's private cooking classes are just a few of the goings-on you'll find here. They also feature an in-house menu that leans toward Spanish and Italian cuisine, and everything is made from scratch daily.
As Siren Song's winemaker, Kevin has created three tiers of wine collections, including the top-of-the-line Grand Cru level, sourced from the Brown's own Ancient Stones Estate Vineyard in The Rocks District of Walla Walla.
This drop-dead gorgeous Syrah carries a lovely fruit/savory balance, with notes of blackberries, black olive, crushed herbs, smoked meats, and a hint of minerality on a velvety finish. Kevin recommends pairing it with their house-made dark chocolate with rosemary and candied ginger.
Alta Cellars 2020 Chardonnay – Succession Wines' Brock and Erica Lindsay purchased Alta Cellars in January of 2021. Alta is located in Manson, one of a cluster of about a dozen wineries that are within walking distance of each other in the area's "downtown" district.
As a boutique winery, Alta currently produces about 600 cases annually; and although the Lindsays plan to keep Alta and Succession with separate identities, the two wineries will share a production facility. The purchase of the additional winery will also allow their staff to work their positions on a year-round basis.
Assistant Winemaker Devon Griffith had a hand in this tasty Chardonnay, which suggests a core of baked apple that melts into a round finish with hints of tropical fruit. Brock noted that a recent pairing of the wine with a pork tenderloin encrusted with a Dijon rub was absolutely amazing.
For more information on these and other wineries in the area go to www.lakechelan.com