Washington Wine of the Week – Selections for Fall, 2020
Posted by Dan Radil
Posted on October 25, 2020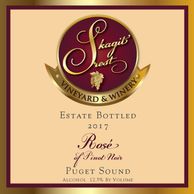 For the week of October 25, 2020: Skagit Crest Vineyard & Winery 2017 Rose' of Pinot Noir – Chuck and Donna Jackson have done an amazing job with their boutique winery that includes a beautiful vineyard in Sedro-Woolley and a tasting room tucked away on the waterfront in downtown LaConner. This stunning Rose', crafted from estate-grown Pinot Noir grapes, carries a unique, pale brick-reddish/dark pink color with generous aromas and flavors of salmonberry, dark strawberry, pomegranate, and watermelon. Pinot's signature earthiness lies underneath, suggesting a food pairing with poached salmon, halibut, or pan-seared duck. Double gold winner at the 2020 Seattle Wine Awards.
For the week of October 18, 2020: Bookwalter Cellars Non-Vintage Notebook Red Wine – Unless you're producing Champagne or something sparkling, releasing a non-vintage wine seems to be a bit of rarity these days. Located in Prosser, this offshoot of J Bookwalter Wines turns the trick with great results by blending Cab Sauv, Syrah, Malbec, and a fraction of Petit Verdot and Mourvedre. What vintages comprise the finished product? Who cares? The wine is delicious, full of character and bargain-priced in the vicinity of $12 to $16 a bottle. Jammed with dried black plum and black cherry fruit, the lengthy, sultry/smoky finish carries a note of chocolate and toasted caramel. Consider this as a top-of-the-list selection for your "everyday drinking" wine and it should pair nicely with pizza, burgers and ribs. Or skip the food, pour yourself an extra-large glass, and enjoy.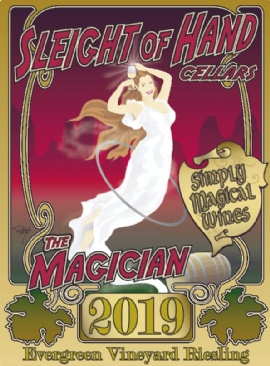 For the week of October 11, 2020: Sleight of Hand Cellars 2019 "The Magician" Riesling – Two words: Evergreen Vineyard. Located in the Ancient Lakes AVA, it's turning out some of the best Riesling grapes in the state…likely to result in mouth-wateringly delicious wines that display laser-sharp acidity and steely minerality. This stunning Riesling from Walla Walla-based Sleight of Hand is packed with Granny Smith apple, lemon/lime citrus, and green pear flavors, with a roughly 1.3% residual sugar content that's perfectly balanced by the wine's vibrant acidity. It's nicely priced at $18 a bottle, and easily capable of several years of cellaring time (yes, you can cellar well-made Rieslings, such as this one) if you like.
For the week of October 4, 2020: Cotes de Ciel 2014 Merlot – With Ciel du Cheval it's all about the terroir, and this just-released selection from the Red Mountain-based vineyard perfectly captures all the nuances you're likely to find in wines from this Eastern Washington region; a touch of smoky lardo on the nose, cassis and graphite on the palate, and an underlying gaminess come to the forefront on this lovely wine. It's capped with a velvety soft finish and hints of toasted oak. The winery tasting room is located in downtown Walla Walla and open for reservations for those planning a visit.
For the week of September 27, 2020: Ambassador Wines of Washington 2017 Syrah – Red Mountain is the source of this excellent Syrah from the Woodinville winery. Blended with 12% Malbec, the blackberry component of the wine really pops as it's commingled with aromas and flavors of fresh-roasted coffee, maple nut, and dark cherry fruit. The persistent finish is capped with a touch of chocolate and bacony lardo, making this wine instantly enjoyable as a pairing partner with veal, duck or lamb while also being a prime candidate for additional cellaring time to allow for even more complexity.
For the week of September 20, 2020: Mercer Estates 2019 Spice Cabinet Vineyard Rose' – Just because we're moving into the cooler autumn and winter months doesn't mean you should stop drinking Rose'! Perfectly adaptable to every season, Rose' is always refreshing, flavorful, and an incredibly food-friendly choice. This selection from the Prosser-based winery is crafted entirely from Grenache grapes by winemaker Jeremy Santo. It displays a lovely shade of pale pink with gentle aromatics of field clover, berries, and a whiff of cotton candy. Red cherry, watermelon, and fresh strawberry flavors lead off, with a crisp note of slightly tart pomegranate and lemongrass on the finish. Perfect with poached salmon, shrimp salad or on its own, and enjoyable absolutely any time of year. Gold medalist at the 2020 Bellingham Northwest Wine Festival.