Washington Wine of the Week – Selections for Spring, 2020
For the week of June 14, 2020: Succession Wines 2017 Cabernet Sauvignon – Lawrence Vineyards is the starting point for this stunning Cab, and if you haven't tried anything from this overachieving, underappreciated wine region you're truly missing out on some stellar fruit. The vineyards are located, quite literally, in the middle of nowhere in Central Washington's Royal Slope area (highlighted in yellow on the map at left). They're the source of this week's selection…yielding a wine that's simply brimming with depth and character. The core of fresh blueberry aromatics and flavors is accompanied by nuances of baking spices, caramel, toffee, and espresso and the finish shows incredible length along with velvety-soft tannins. Also currently available in the 2018 vintage from the Manson-based winery.
For the week of June 7, 2020: Tildio Winery 2019 Estate Rose' – Winemaker Katy Perry hits a grand slam with this refreshing, flavorful Rose' crafted from a 50/50 blend of Cabernet Franc and Tempranillo sourced from the winery's vineyards in Chelan. White peach, green melon, and wild strawberry flavors shine through, with touches of lemon/grapefruit citrus and a whisper of spice on a dry finish. Perfect for any time of year, but especially welcome during the spring and summer seasons, perhaps with a variety of cheeses and a sliced baguette, a shrimp salad, or simply on its own as an aperitif.
For the week of May 31, 2020: Sigillo Cellars 2019 White Caps – Sigillo Cellars may be one of the better Washington wineries you've never heard of. Based in small-town Snoqualmie, with a second tasting room recently opened in Chelan, this 100% Pinot Gris sourced from the Lake Chelan AVA will have you smiling from the very first sip. The wine's base of mouth-watering peach and nectarine flavors is underscored with citrusy pink grapefruit and lime zest. If not for the slightly full-bodied texture and trailing note of spicy lychee fruit, you might mistake this wine for a Riesling. That's not a bad thing at all, especially when you chill it down a bit and serve it on a warm day on the deck or patio.
For the week of May 24, 2020: City Limits 2016 Zinfandfel – Zinfandel, Wahluke Slope, 16% alcohol…this wine has all the makings of a borderline, Port-like fruit bomb. And yet, winemaker Morgan Lee keeps everything in check by crafting a nicely balanced, pleasure-to-drink Washington Zin. Full bodied? Of course. Too hot? No! Just a mouthful of dark fruits, Ligurian cherry, and a touch of caramel on the finish. This wine can stand up to a bit of heat and spice in foods you might serve with it, and a pairing with pork adobo is sublime.
For the week of May 17, 2020: Kestrel Vintners Non-Vintage Lady in Red 14th Edition – One of the appealing things about this perennial release from Kestrel is that it bills itself as just an everyday table wine; and on that count it delivers by providing an easy-to-drink, easy-to-afford red packed with plenty of character. Pleasant eucalyptus, lavender, and tarragon aromatics, flavors of cranberry, cherry gummi bear, and raspberry jam, and a lingering finish with hints of cola and sweet leather, make this a fun wine that doesn't take itself too seriously. Comprised of 57% Merlot, 39% Syrah and 4% Sangiovese.
For the week of May 10, 2020: Wit Cellars 2016 Petit Verdot – Some great wines are coming out of this Prosser winery, and this Bordeaux-based varietal, bottled here in stand-alone form, is a prime example. Robust, yet balanced, it's packed with dark berry and black cherry flavors, pliable tannins, and finishing touches of cigar box and baking spice. It's quintessential Washington State Petit Verdot, and those that love expressive, full-bodied reds will find this wine easily checks all the boxes. Gold medal winner at last year's Bellingham Northwest Wine Festival.
For the week of April 26, 2020: Tapteil Vineyard and Winery 2016 Grenache – It seems like Larry and Jane Pearson have been on Red Mountain since, well, 1985…which is when they planted their first vineyards and became mainstays in this industry-leading Washington AVA. Their wines are highlighted with big flavors and instantly drinkable, and yet they hold up beautifully over time. This full-bodied Grenache displays plenty of dark currant, brambly blackberry, and sweet plum, with a nice splash of acidity to balance things out. The finish suggests a bit of chocolate and vanilla bean with a touch of toasted oak for added depth and character. In a word: delicious!
For the week of April 19, 2020: Vartanyan Estate Winery 2018 Vivace Pinot Gris – Vivace is a musical term that means "lively" and that's an appropriate descriptor for this newly released, must-try white wine. Big aromas and flavors of nectarine, pear, and white peach are backed by crisp acidity and just a whisper of clove and cinnamon spice on the finish. Serve it well chilled as a starter with light appetizers or simply solo…it's practically guaranteed to be a springtime crowd-pleaser.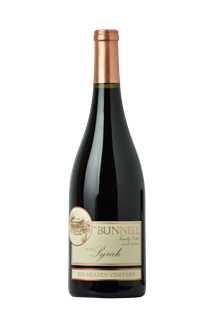 For the week of April 12, 2020: The Bunnell Family Cellar 2014 Red Heaven Vineyard Syrah, Red Mountain – This older vintage Syrah is drinking in absolutely beautiful fashion and it just earned "Unanimously Outstanding" honors from Wine Press Northwest Magazine. Freshly brewed coffee aromatics, Rainier cherry, beef jerky, and dark berry flavors, and milk chocolate and sweet tobacco on the finish highlight this stunning wine. There's a nice, meaty texture here, with pliable tannins and a spritz of black pepper to top things off. The winery features two tasting rooms, one in Woodinville and the other in Prosser, which is part of the must-visit Wine O'Clock Restaurant.
For the week of April 5, 2020: DeLille Cellars 2016 Roofline Red Blend – This proprietary blend – we're guessing Cab Sauv, Merlot, Syrah, and perhaps some Cab Franc(?) – is sourced from Yakima Valley AVA fruit. The opening aromatics are wonderfully complex: blackberries, vanilla wafer, and delicate, perfume-like floral petals come to mind. The flavor profile is dominated by brighter fruits of red currant and red raspberry, with a nice streak of acidity throughout. Perfectly integrated tannins are capped with a slightly herbal finishing note and sultry/smoky undertones. In short, this stellar wine is the complete package for those who enjoy savoring the intricate qualities of a red wine blend.
For the week of March 29, 2020: Drink Washington State 2018 Visit Walla Walla White Blend – Prepare for some serious sensory stimulation with this equal-parts combination of Riesling, Muscat, and Pinot Gris. Orange blossom and honeysuckle bouquet, lively mouth-watering flavors of pear, green melon, lychee, and white peach on the palate, and a nicely balanced finish that falls somewhere between ambrosia/marshmallow creme and citrusy crispness. It's a fun, smile-inducing blend that should pair up perfectly with grilled prawns or just as easily stand alone as an excellent spring or summertime sipper.
For the week of March 22, 2020: Longship Cellars 2017 Wahluke Slope Garnacha – There's a streak of dried cranberry and strawberry jam that jumps out and persists throughout this spectacular wine. In the middle stanza, it begins to take on a slightly smoky/blackberry character and continues to melt into a lengthy finish with subtle complexities of caramel corn, nutmeg, and burnt vanilla creme.
Layered and intriguing, this wine demands that you take your time and contemplate every enjoyable sip. An absolutely stunning effort by Richland winemaker Kyle Welch, and a well-deserved gold medal winner at last year's Bellingham Northwest Wine Festival.