Washington Wine of the Week – Selections for Winter, 2020
Posted by Dan Radil
Posted on January 19, 2020
Uncategorized
For the week of January 19, 2020: Palencia Winery 2018 El Vinador Albarino and Thurston Wolfe 2018 Albarino – Acid hounds are going to love Albarino; a newer white wine rock star to the Washington wine scene that was practically non-existent here about 10 years ago. Laser-sharp crispness is the hallmark of this tasty varietal and that means it's prime material for pairing with seafood dishes laced with butter or cream-based sauces. The Palencia Albarino is lean, mean, and packed with green apple and lime-citrus flavors, while the Thurston Wolfe explodes with under-ripe Golden Delicious apple, tart starfruit, and tropical/pineapple fruit. The 2018 vintage of these wines is in short supply, but the 2019 edition should be available after release this spring.
For the week of January 12, 2020: Brian Carter Cellars 2013 Le Coursier -This Bordeaux blend from Woodinville's Brian Carter is a perfect example of why this veteran winemaker has been considered a "master blender" within the Washington wine industry. The wine's 54-percent base of Merlot is combined with Cabernet Sauvignon, Cabernet Franc, Malbec, and Petit Verdot and the results are spectacular: plush cherry and blackberry fruit, a bit of backbone with nicely integrated tannins, and a whisper of spice box and black currant on the finish. The fact that the 2013 vintage is still available – and drinking so beautifully – should give you all the more incentive to buy it and try it now.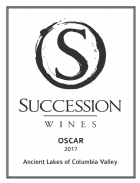 For the week of January 5, 2020: Succession Wines 2017 "Oscar" Merlot – Sourced from the Ancient Lakes AVA, this terrior-driven, lighter style Merlot carries a wave of spicy berry, red currant, and huckleberry aromas and flavors from start to finish. The brighter, leaner qualities of the wine suggest excellent food-pairing potential, and veal or chicken piccata come to mind as top-of-the-list choices. Keep your eye on this up-and-coming Chelan winery, where winemaker Brock Lindsay is crafting some outstanding wines that deserve your attention.
For the week of December 29, 2019: Armstrong Family Winery 2016 Four Birds – Winemaker Tim Armstrong does a fine job with this Bordeaux blend comprised of Merlot, Cabernet Franc, Cabernet Sauvignon, and Petit Verdot. There's a faint aroma of fresh-roasted coffee on the nose, with flavors of chocolate-cherry cordial and red plum, nuances of forest floor, and slightly chalky tannins. The wine suggests additional layers of complexity and promises to only get better with a few more years of cellaring time. Double gold recognition earned at this year's Wine Press Northwest Platinum Judging. The winery has tasting rooms in both Walla Walla and Woodinville.
For the week of December 22, 2019: MCM Wine Company 2016 "Spectaculuxe" Syrah – Tim Narby and Carol Bryant have been doing a great job with their Seattle-based :Nota Bene Cellars for many years. They expanded the winery's 'red wines only' production to include even more reds along with a couple of whites and some rose's under a second label: MCM Wine Company, which offers more affordable choices without skimping on quality. Their Spectaculuxe Syrah, which comes with some artsy, eye-catching labeling, is a blended with 14-percent Grenache that contributes to a lighter-bodied wine that's still brimming with juicy red fruits and red licorice flavors. There's also a sultry/smoky note on the finish that suggests a pairing with duck or short ribs. Sourced from three top-notch vineyards: Ranch at the End of the Road, Arianses, and StoneTree.