Washington Wine of the Week – Selections for Spring, 2019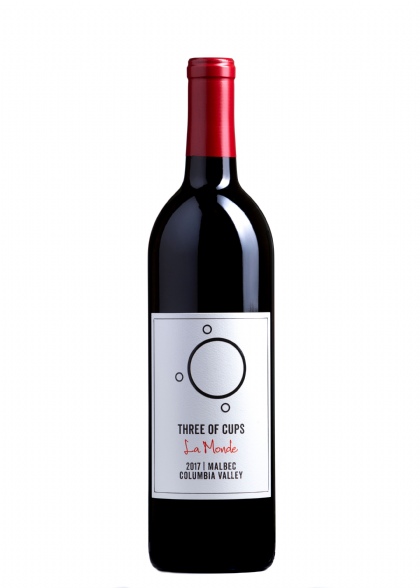 For the week of April 14, 2019: Three of Cups 2016 La Monde – Malbec – Can a wine be both fun and serious at the same time? Absolutely! Woodinville's Mike Metheny (another "winemaker to watch") crafts this intriguing, easy-to-drink choice with plenty of character that weighs in at only about $20. It opens with aromas of freshly-baked spiced fruitcake, bright flavors of pomegranate, pie cherry, and red currant to start and then finishes with gentle, underlying layers of chocolate, black cherry and leather. The 2017 vintage is also now currently available.
For the week of April 7, 2019: Callan Cellars 2018 Grenache Blanc Looking for a refreshing, lighter bodied white wine to enjoy with the appetizer course or for stand-alone, springtime sipping? This tasty, just-released selection from Woodinville winemaker Lisa Callan will easily fit the bill. Sourced from Yakima Valley's Boushay Vineyards, it's packed with expressive lemon/lime and pink grapefruit flavors, a twist of orange zest, and plenty of vibrant acidity and steely minerality on the finish. Another noteworthy white Rhone varietal from Callan: her newly released 2018 Picpoul.
For the week of March 31, 2019: Craftsman Cellars 2015 Cabernet Franc – One of my favorites from the 2019 Taste Washington Grand Tasting, this wine is a grand slam from start to finish. Stunning violet and purple fruit aromatics, fresh berries and black cherry on the palate, and a mile-long finish with finely integrated tannins and a touch of savory herbs and black pepper. Keep this relatively new Spokane winery on your radar…winemaker Greg Shelman is turning out some awfully nice wines here that are worth checking out.
For the week of March 24, 2019: Locus Wines 2018 Rose – Seattle winemaker Rich Burton always does an amazing job with a diverse portfolio of overachieving, incredibly affordable wines…many of which fall within the $15 to $20-a-bottle price range.
This just-released, Provencal-style Rose is a blend of 42% Grenache, 31% Mourvedre, and 27% Cinsault and the results are absolutely stunning: Lovely floral aromatics, strawberry, orange citrus, and green melon flavors, and a bone-dry finish with laser-sharp acidity.
This wine practically demands a pairing with creamy cheeses and a freshly-baked baguette and it's also a great way to kick off the spring wine tasting season.