Washington Wine of the Week – Selections for Spring, 2019
For the week of June 16, 2019: Tertulia Cellars 2016 Riviere Galets Vineyard Syrah – Sourced from the winery's estate vineyard in Milton-Freewater, Oregon (which is included in the Walla Walla AVA), this Syrah may be one of the best you've ever tasted from Washington State. Explosive flavors of raspberry preserves, black plum, and cassis, with delicate floral notes throughout and a streak of minerality on an ultra-long, velvety soft finish. Kudos to winemaker Ryan Raber, who's created an incredible wine that strikes the perfect balance between fiercely powerful and simply elegant.
For the week of June 9, 2019: Gordon Estate 2016 Reserve Chardonnay – Tired of unoaked Chardonnays and looking for something with a little more heft? This beautiful release from the Pasco winery is certain to make you happy without costing you a small fortune. Big, Golden Delicious apple and yeasty baked bread aromatics and flavors lead off, with pear, cantaloupe, and apple pie at its center and a long, creamy finish with accents of toast, toffee, and vanilla bean. Toss in a price tag in the low $20's and you've got a can't-miss combination that should put this selection in every Chardonnay lover's wine cellar.
For the week of June 2, 2019: Two Mountain Winery 2018 Rose – Ideal for picnics, barbecues, or any other outdoor event, this near-genius promotional packaging features three 250-milliliter bottles with crown caps for easy, take-along wine enjoyment. The lightly fruity flavors of strawberry/rhubarb are balanced by a touch of savory cherry tomato, and a bright, crisp finish makes it terrific for spring and summertime sipping. A blend of Cabernet Franc and Cabernet Sauvignon, the grapes were sourced from the Yakima Valley by the Zillah-based winery that continues to produce solid, affordable choices.
For the week of May 26, 2019: Beaumont Cellars 2018 Pete's Crushpad Blend – Note to Washington winemakers: make more Semillon. Note to Washington wine enthusiasts: drink more Semillon! Pete Beaumont absolutely nails it with this newly-released blend and shows why the underutilized white varietal is tasty, nicely priced (about $22), and a perfect pairing partner with Sauvignon Blanc (in this case a 55/45 ratio in favor of Semillon). Luscious peach and crisp Fuji apple flavors complement each other and lead to a big, round, lingering finish that's borderline buttery and framed with a touch of minerality.
For the week of May 19, 2019: Elevation Cellars 2017 Sauvignon Blanc – This uniquely made wine from Woodinville winemaker Steve Stuart was fermented in a combination of French oak, acacia wood and concrete…and the results are impressive. It carries the requisite citrus flavors of lime, grapefruit and lemon, with a trace of lemongrass and green herbs that highlight the brisk finish. The wine also has a fairly weighty quality to it; likely a product of the warmer, Wahluke Slope AVA from where the grapes originated.
For the week of May 12, 2019: Efeste 2015 Final-Final Red Blend – Have you ever been tempted to dab on a wine for cologne? This intoxicating red blend of Cabernet Sauvignon and Syrah from the Woodinville winery is one of those wines; roses, cherries, and blackberries fill the glass and then carry over to palate with additional flavors of black plum, black cherry, and berry compote. Nicely integrated tannins on the finish add a bit of structure and complete the package. A must-try wine choice for any Washington red wine lover.
For the week of May 5, 2019: Seven Hills Winery 2018 Dry Rose – Here's another great choice for springtime sipping and outdoor enjoyment from one of Walla Walla's premiere wineries. The slightly unusual combination (at least for a Rose) of a Cabernet Franc base plus a touch of Petit Verdot and Malbec works on every level. Green melon, kiwi, grapefruit, and citrus flavors, along with a streak of minerality and wet stone on the finish make this bone-dry Rose a natural to pair with shrimp, clams, or oysters on the half-shell.
For the week of April 28, 2019: Milbrandt Vineyards 2018 Sweet Katherine Riesling – This big, expressive, just-released Riesling from the Prosser winery is packed with white peach and nectarine flavors that explode into a honey-like finish that's nicely balanced with bracing, linen-crisp acidity. This could very well be your top choice for a warmer weather "porch pounder" white wine…served chilled and enjoyed in the company of good friends.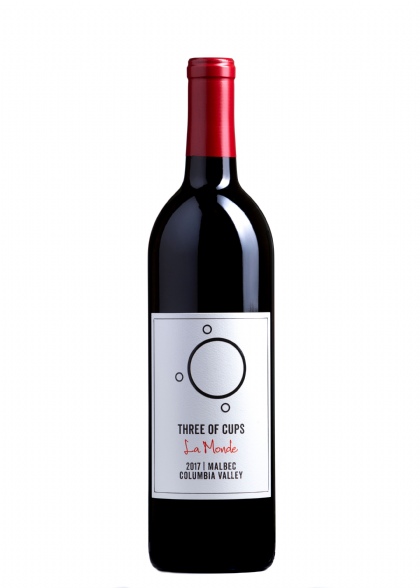 For the week of April 14, 2019: Three of Cups 2016 La Monde Malbec – Can a wine be both fun and serious at the same time? Absolutely! Woodinville's Mike Metheny (another "winemaker to watch") crafts this intriguing, easy-to-drink choice with plenty of character that weighs in at only about $20. It opens with aromas of freshly-baked spiced fruitcake, bright flavors of pomegranate, pie cherry, and red currant to start and then finishes with gentle, underlying layers of chocolate, black cherry and leather. The 2017 vintage is also now currently available.
For the week of April 7, 2019: Callan Cellars 2018 Grenache Blanc Looking for a refreshing, lighter bodied white wine to enjoy with the appetizer course or for stand-alone, springtime sipping? This tasty, just-released selection from Woodinville winemaker Lisa Callan will easily fit the bill. Sourced from Yakima Valley's Boushay Vineyards, it's packed with expressive lemon/lime and pink grapefruit flavors, a twist of orange zest, and plenty of vibrant acidity and steely minerality on the finish. Another noteworthy white Rhone varietal from Callan: her newly released 2018 Picpoul.
For the week of March 31, 2019: Craftsman Cellars 2015 Cabernet Franc – One of my favorites from the 2019 Taste Washington Grand Tasting, this wine is a grand slam from start to finish. Stunning violet and purple fruit aromatics, fresh berries and black cherry on the palate, and a mile-long finish with finely integrated tannins and a touch of savory herbs and black pepper. Keep this relatively new Spokane winery on your radar…winemaker Greg Shelman is turning out some awfully nice wines here that are worth checking out.
For the week of March 24, 2019: Locus Wines 2018 Rose – Seattle winemaker Rich Burton always does an amazing job with a diverse portfolio of overachieving, incredibly affordable wines…many of which fall within the $15 to $20-a-bottle price range.
This just-released, Provencal-style Rose is a blend of 42% Grenache, 31% Mourvedre, and 27% Cinsault and the results are absolutely stunning: Lovely floral aromatics, strawberry, orange citrus, and green melon flavors, and a bone-dry finish with laser-sharp acidity.
This wine practically demands a pairing with creamy cheeses and a freshly-baked baguette and it's also a great way to kick off the spring wine tasting season.