Washington Wine of the Week – Selections for Summer, 2018
Posted by Dan Radil
Posted on September 22, 2018
For the week of September 16, 2018: San Juan Vineyards 2016 Siegerrebe – As summer winds down, a chilled bottle of Siegerrebe makes a great choice for those looking for a refreshing white wine. Sourced from estate-grown grapes, it carries beautiful floral and spicy aromatics, with generous citrus and ruby red grapefruit flavors along with a brisk note of acidity and more spicy lychee on the finish. Enjoyable year-round, of course, and a grand slam when paired with fresh crab or shrimp.
For the week of September 9, 2018: Desert Wind Winery 2016 Mourvedre – Has it been a while since you tried Desert Wind wines? These wines have always been affordable, but now they've also reached a level of quality that puts them on your "must try" list. This selection is absolutely yummy, with an earthy, meaty base framed with rich cherry and blackberry flavors, hints of clove and sweet cedar, and a velvety-soft finish. Winemaker Greg Fries has really done a nice job with this wine, using fruit sourced from his family's estate vineyards located in the Wahluke Slope AVA.
For the week of September 2, 2018: Bertelsen Winery 2017 Riesling – This Western Washington winery, located a few miles south of Mount Vernon, has noticeably upped the quality of their wines, and this off-dry Riesling is a great example. It features lovely ambrosia and beeswax aromatics, lots of juicy, Bartlett pear and Golden Delicious apple flavors, and a lively splash of acidity to balance out the slightly sweet finish. Great for the late days of summer when served well-chilled. The grapes were sourced from the White Bluffs Vineyard, just north of the Tri-Cities in the Columbia Valley AVA.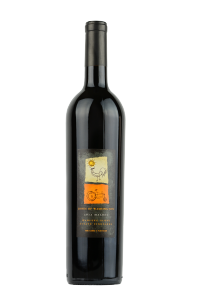 For the week of August 26, 2018: Jones of Washington 2013 Malbec– This older vintage/still-in-current-release Malbec from the Wahluke Slope and superstar winemaker Victor Palencia is, simply put, some pretty amazing juice.
Big, ripe berry fruit comes to the forefront from beginning to end, with a sifting of baking spice and coffee/mocha accents on the finish. How would you like this liquid equivalent of blackberry pie for adults only? In a large wineglass for summertime sipping at the end of the day, please.
For the week of August 19, 2018: Double Canyon DCV 2014 Cabernet Sauvignon – Cabernet continues to be king of Washington's red wine grape production and West Richland's Double Canyon is 'all in' by dedicating as much as 80% of its annual output towards the varietal. This wine features intoxicating violet and black cherry aromatics, plum and dried cherry flavors, soft tannins and a lovely and rather surprising splash of acidity that keeps everything in perfect balance. There's an elegant taste and feel to this wine that keeps you coming back for more and that makes it a winner.
For the week of August 12, 2018: Hedges Family Estate 2016 Syrah – This exceptional Syrah took Best in Show honors at the 2018 Bellingham Northwest Wine Festival…and with good reason. The complexities and layers of this wine are truly remarkable; rich, juicy blackberry and blueberry fruit, smoked meats and black olive on the finish, and a beautiful streak of acidity and perfectly integrated tannins throughout. It's Red Mountain AVA Syrah at its finest and highly deserving of a "must-try" recommendation.
For the week of July 29, 2018: Maryhill Winery 2017 Rose of Sangiovese – The eye-catching, shocking pink color of this Rose from the folks at Maryhill is a precursor to the big, bright flavors inside the bottle. Watermelon, strawberry/rhubarb, and a touch of cotton candy on the finish along with a zippy-fresh quality make this a "porch-pounder" wine for the summer months; a refreshing crowd-pleaser any other time of the year. Gold medal winner at the 2018 Bellingham Northwest Wine Festival.
For the week of July 22, 2018: Wit Cellars 2016 Pinot Gris – 2017 is shaping up to be a very warm Washington summer, and that makes it a perfect time for a chilled bottle of Pinot Gris. This selection from Wit Cellars is fantastic…light floral and stone fruit aromatics, beautiful flavors of starfruit, honeydew melon and Bartlett pear, full-bodied mouthfeel, and a borderline sweet finish with crisp acidity and notes of citrus peel. Big things are coming out of this Prosser winery and that makes it a must to have on your radar.
For the week of July 15, 2018: Edward Lynne Cellars 2017 Mourvedre Rose – The cool thing about Rose wines is that they can be made with any number of red varietals in any number of styles and sweetness levels. If you like your Rose to be crisp and dry, this selection will do the trick. Fresh, tart red pie cherry aromatics and flavors are capped with a slightly earthy finish and vibrant acidity. Perfect for summer grilling with a little fresh shrimp off the barbecue. A nice effort from Camano Island winemaker Bill Kintner.
For the week of July 8, 2018: Forgeron Cellars 2015 Facon Blanc – This stunning white wine blend of 39% Roussanne, 34% Viognier, and 27% Grenache Blanc hits all the right notes: stone fruit aromas and flavors with touches of lime zest, juicy acidity, and a hint of minerality. The layered textures of this artfully crafted wine allow you taste all three Southern Rhone varietals, and the end result is an unbeatable combination from Walla Walla's Marie-Eve Gilla.
For the weeks of June 24 and July 1, 2018: The wines of the 3rd Annual Bellingham Northwest Wine Festival – Slated for Saturday, August 4, this year's Festival will showcase over 150 wines from at least 50 wineries from the Pacific Northwest.
A sneak peak of the some of the featured wines include three gems from Prosser's Wit Cellars: a 2015 Cabernet Franc, 2015 Petit Verdot, and 2016 Pinot Gris; a 2016 Merlot and 2016 Malbec from Structure Cellars in Seattle; and also from Prosser, the Thurston Wolfe 2015 Zinfandel and 2016 Touriga Nacional Port.
Tickets are available on line at Eventbrite. The complete list of participating wineries as well as all other Festival information can be found at www.BellinghamNorthwestWineFestival.com.
For the week of June 17, 2018: Revelry Vintners 2015 Block 18 Syrah – This Walla Walla winery's beautiful new tasting room located south of town is worth checking out for its Blue Mountain views, tranquil setting, and gorgeous wines…including this Syrah, which is an absolute stunner. Ultra-dark in color, with a flavor profile to match, the wine finishes with slightly earthy/smoky notes on a lingering, velvety-soft finish. Serve it this summer with grilled lamb burgers, crispy duck, or BBQ chicken.