Washington Wine of the Week – Selections for Spring, 2018
For the week of June 10, 2018: The Walls Vineyards 2016 'McAndrew' Chardonnay – Mike Martin and winemaker Ali Mayfield are turning out some pretty amazing wines at this relatively new Walla Walla winery. One could say this is a 'middle-of-the-road' Chardonnay in that it's neither too acidic nor too oaky, but 'perfectly balanced' is a far better descriptor of this beautifully crafted wine. There's a backbone of citrus fruit at its core, and Mayfield has given it an artful flourish of toffee, caramel, and gentle spicy notes that result in a softer, rounder finish. Roast chicken, shellfish, and seafood come to mind as potentially excellent food-pairing partners.
For the week of June 3, 2018: Samson Estates Framboise Raspberry Dessert Wine – Raspberry season is approaching in Whatcom County and if you enjoy the fruit in liquid form, this stunning effort from Everson's Samson Estates is guaranteed to make you happy. The explosion of pure raspberry aromas and flavors is amazing, and a lofty 16% alcohol content is balanced by the wine's sweetness. The result is a fortified dessert wine that's neither too hot nor too syrupy and that makes this effort by winemaker Rob Dhaliwal something that even the most uppity wine purist should find enjoyable.
For the week of May 27, 2018: Longship Cellars 2015 Starship Red Blend – Key your eye on winemaker Kyle Welch and his wife, Cassie (pictured at left at Bellingham's Vinostrology Wine Bar). The Richland couple are turning out some pretty amazing wines, including this stellar blend that demands your attention. 61% Cab Sauv, 18% Syrah, 15% Merlot, and the balance of Petite Verdot, Cab Franc and Malbec comprise a wine full of complexity and flavor. Fresh roasted coffee aromatics, dark, inky cassis on the palate and slightly chewy tannins with a touch of bittersweet chocolate on the finish make this wine an absolute pleasure to taste.
For the week of May 20, 2018: Dynasty Cellars 2017 Rose – As the season begins shifting from spring into summer, nothing hits the spot like a chilled bottle of Rose to serve at a picnic, barbeque or on the deck. This lip-smacking delicious Rose-style wine from Bellingham's Dynasty Cellars combines Riesling with just a splash of Malbec to give it its lightly pink color. Red cherry, strawberry, and watermelon flavors are backed by crisp acidity and just a hint of sweetness on the finish.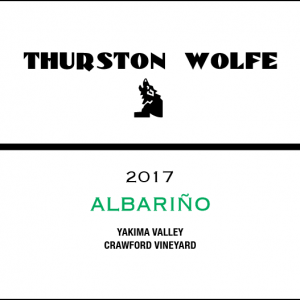 For the week of May 13, 2018: Thurston Wolfe 2017 Albarino Here's another one of those big, international varietals that's really starting to gain some traction in Washington State. This selection from the Prosser-based winery has a lovely golden hue and is loaded with tropical fruit flavors of mango and pineapple along with juicy apricot and pear. It's weighty like a Viognier, but with a much higher acid content. Chill it down a bit before serving and you've got an absolutely delicious white wine. 2,400 cases produced.
For the week of May 6, 2018: Vartanyan Estate Winery 2014 Malbec – This big, flavorful red from the Whatcom County winery is a Malbec lover's dream. Rose petal and forest floor aromatics, tons of brambly blackberry fruit on the palate, and a slightly earthy finish with plenty of spice box accents.
Try it with a grilled lamb burger, a variety of beef entrees or simply on it's own…as an end-of-the-evening red wine that's excellent for sipping and savoring.
For the week of April 29, 2018: Mercer Estates Sharp Sisters 2015 Red Blend – Mercer hits on all cylinders with three tiers of labels – Mercer Canyons, Mercer Estates, and Mercer Reserve – that are certain to fit your budget with high-quality wines at each level. This unconventional blend of Cab Sauv, Syrah, Merlot, Petit Verdot, Grenache and Carignane displays lovely blackberry and vanilla bean aromatics, ripe plum flavors, and a lead-off finish of velvety dark fruits balanced with a splash of acidity. A perfectly balanced, beautifully crafted, and all-around excellent red wine blend.
For the week of April 22, 2018: Milbrandt Vineyards 2016 Evergreen Vineyard Riesling – Milbrandt Vineyards is concentrated in the Wahluke Slope and Ancient Lakes of Columbia Valley AVAs in Central Washington and is comprised of about 3,000 total acres. This tasty Ancient Lakes Riesling explodes with juicy peach and Fuji apple flavors and is framed by a crisp, steely finish. The 1.2% residual sugar content is virtually unnoticeable, balanced with vibrant acidity. The wine is still drinking beautifully…and perfect as an outdoor, on-the-deck sipper.
For the week of April 15, 2018: Bartholomew Winery 2014 Reciprocity – Winemaker Bart Fawbush (pictured at right) says that Carmenere is his favorite grape, and he teams it up in a 50/50 blend with Cabernet Sauvignon and comes up with a winner. The Carmenere shines with white pepper flavors and aromatics while the Cab adds body, structure, and notes of dark berry fruit and caramel. Be sure to check out Bartholomew's cool new tasting room at the Columbia Gardens Urban Wine & Artisan Village, located in Kennewick.
For the week of April 8, 2018: Robert Ramsay Harris Cellars 2016 Mason's White/2015 Mason's Red – Winemakers Bob Harris and Casey Cobble have created a pair of amazing "everday" blends that fit that descriptor on price (about $20 each) but more than exceed it in terms of quality. The white is a combination of Roussanne and Grenache Blanc that's slightly tropical, citrusy, nutty, round, and flat-out delicious; the red combines five Rhone varietals and is packed with red fruit flavors along with a little savoriness and some great acidity on the finish. Buy these wines now and serve them with dinner tonight.
For the week of April 1, 2018: DeLille Cellars 2015 Chaleur Blanc – DeLille Executive Winemaker Chris Upchurch and Winemaker Jason Gorski have been turning out some of Washington's top blends for years. "We really firmly believe in good lands, good people managing the vineyards, and everyone giving care, love, and passion every step of the way," Gorski says. That becomes apparent with each release, including this white blend of 73-percent Sauvignon Blanc and 27-percent Semillon. It's nicely complex, with aromas of fresh field grasses and honeysuckle flowers followed by gentle flavors of pineapple and tropical fruits and a finish of caramel and toasted oak. The 2016 vintage is also available at the tasting room.
For the week of March 25, 2018: College Cellars 2014 Cabernet Sauvignon – For the uneducated, a "college made" Washington wine might conjure up an imagine of amateur winemakers tinkering around with a batch of grapes for a class project. For those of us who've tasted releases from the Walla Walla Community College Center for Enology and Viticulture, we know that this is anything but the case. This stunning Cab, which took gold medal honors at the 2017 Bellingham NW Wine Festival, is a perfect example: it opens with a mouthful of blackberry fruit that glides into a finish of super-concentrated black cherry and black plum, framed with finely integrated tannins. Elegant, delicious, and tastefully crafted.
For the week of March 18, 2018: Bonair Winery Yakima Valley 2013 Cabernet Sauvignon – Looking for an everyday Cab that delivers on taste at a reasonable price? This $13 selection from the Zillah winery easily has you covered on both fronts. Delicious, mouth-watering blackberry and sweet Ligurian cherry flavors lead off, with touches of vanilla, cedar, and brambly berry on a velvety-smooth finish. The label lists an alcohol content of only 12.5%. Understated? Perhaps. But if so, it only adds to the enjoyment and drinkability of a wine that is sure to put a smile on your face.