Hellam's Vineyard Offers a Great Selection of Wines from France, Italy, and Boutique Washington Wineries
Posted by Dan Radil
Posted on November 3, 2017
This article originally appeared in the November, 2017 issue of Bellingham Alive Magazine
Picture an "average" wine shop owner and you might envision a bespectacled, somewhat snobby old man who essentially turned his personal bottle collecting hobby into a 9-to-5 entrepreneurship.
Jeff Hellam of Hellam's Vineyard, a wine shop and wine bar in LaConner, couldn't be further from that stereotype. He's a rare mix of someone who acquired both technical knowledge and practical experience within the wine industry before he started his business.
Today he operates a successful retail outlet where well-seasoned wineophiles, casual wine drinkers, and out-of-town visitors can stop in, taste wine, have a nosh, and purchase a variety of affordable bottles in an unpretentious atmosphere.
GETTING FROM THERE TO HERE
A Washington native who grew up in Issaquah, Hellam earned a hospitality-focused bachelor's degree at Washington State University before eventually making the jump to the wine industry. He cites an old high school friend, Scott Moeller (currently the winemaker at Novelty Hill-Januik Wineries in Woodinville), as a major perpetrator in getting him "bit by the wine bug."
Moeller connected Hellam with Chinook Winery in Prosser, where he worked his first crush in 2002. "I was only making $10 an hour (there) and never happier," he recalls with a laugh. From there he worked primarily in wine chemistry as a lab tech at the WSU Research Station in Prosser, and then as a self-described "business operations manager/events coordinator/harvest worker" at Kestrel Vintners, also in Prosser.
When Kestrel winemaker C.R. Sandidge moved on to the Chelan area in 2004, Hellam says, "I was at a crossroads at that point in time. Do I go to work for another winery; do I start my own label? Or maybe do I do a bottle shop, because I had all this knowledge and information that I felt could help explain wine to customers."
The answer came later that year when his parents, who had retired to Anacortes, came upon an available space in nearby LaConner that, coincidentally, had previously been occupied by a wine shop.
"They called me…and said there was a 'for rent' sign in the window. That was my a-ha moment," Hellam says. He and his wife, Paige, took the plunge and signed a lease for the space in October of 2004.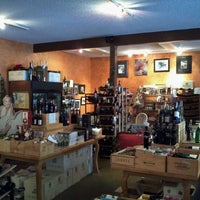 As for deciding on a wine shop called "Hellam's Vineyard" when there wasn't a grape vine in sight, Hellam credits his dad with suggesting the name. He said, "You don't have rows of vines but you have rows of bottles. I told him that was the cheesiest thing I ever heard, but I love it. So that's what we went with."
CHALLENGES AND SPECIALTIES
The Hellams have gradually expanded their space from 400 to 2,500 square feet, including a deck with outdoor seating overlooking the Swinomish Channel. But things haven't always been smooth sailing.
"It was a little scary during the recession. LaConner was like a ghost town. But I knew this was a special location…and our customers really rallied when they knew we needed their support." Today that support includes a wine club of about 350, many who have been members for five to 10 years.
"There's also a beer club and a cider club, too," Hellam says. "All of our members get detailed notes on each bottle; food pairing recommendations, cellaring advice, history of the winery or brewery, (and so on)."
Ever the information gatherer, Hellam spearheads tours to France, Spain or Italy each year. "The tours are really unique because they're not with a tour company, they're with wine importers. So when we do these trips we're going behind-the-scenes to these little boutique, small, family-owned and operated properties where customers can order wines that are shipped to Seattle and no one has to pay shipping charges."
"Our Italian selection at the wine store is strong, and that's by virtue of us doing 14 tours to Italy. The majority of wines we have are from wineries we've been to." Hellam also feels that the store carries a good selection of French wines and excels at featuring a great variety of Northwest boutique wineries.
And what gives Hellam's Vineyard that special edge over an 'ordinary' wine shop? "You can come to Hellam's and learn about a bottle of wine rather than (me) just trying to sell the most expensive bottle. It's a different approach, but anyone can pick up a bottle and say 'this is good.' It's important to me to say why it's good."
Hellam's Vineyard is located at 109 1st Street in LaConner and open seven days a week from 11:30 am to 6:30 pm (Closed Tuesdays from October through February). More information: (360) 466-1758 or hellamsvineyard.com.
Recommendations currently available at Hellam's:
Motorosso 2015 Red Blend (about $12) – This "kitchen sink" Sangiovese-based blend with a somewhat tacky label makes a great middle-of-the-week red wine.
Saint Hilaire 2015 Blanquette de Limoux Brut (about $17) and Edmond Thery L'Or Brut Chardonnay (about $20) – The Saint Hilaire is an exceptional value and Hellam says the L'Or is like having a "party in a bottle."
Pertinace 2014 Nebbiolo (about $22) – One of Hellam's favorite varietals, this one is great with wild mushroom risotto or rack of lamb and it beats a Barbaresco at twice the price.
Lost River Winery 2013 Massif (about $30) – This Washington Malbec/Syrah blend practically demands a contemplative mood, a cigar, and a good book.
Five Star Cellars 2012 Quinque Astrum (about $33) – A Washington super-Tuscan that Hellam feels resembles more of an Old World-style blend than a Walla Walla fruit bomb.