Washington Wine of the Week – Selections for Spring, 2017
For the week of June 18, 2017: Rotie Cellars 2016 Southern White – Sean Boyd is doing some amazing things with his 100% Rhone varietal composition wines. They're big and sexy, and yet they display the finesse of a skilled winemaker who's hitting all the right notes. This blend of Viognier, Roussanne and Marsanne opens with pear and orange blossom aromas and flavors that melt into apricot and tropical fruit with a touch of almond on the mile-long finish. Rotie has tasting rooms in both Walla Walla and in Seattle's Sodo district just south of the downtown core.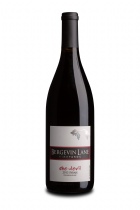 For the week of June 11, 2017: Bergevin Lane Vineyards 2013 She-Devil Syrah – Sourced from the Francisca Vineyards in the Walla Walla Valley and Stone Tree Vineyards in the Wahluke Slope region, this beautifully balanced Syrah opens with smoky aromatics that lead to understated, dark blackberry flavors and nuances of toasted oak. Co-fermented with Viognier, the wine was also blended with a splash of Malbec, which provides a gentle touch of spiciness on the finish.
For the week of June 4, 2017: The Bellingham Northwest Wine Festival is only two months away, so here is some "homework" for Washington wine lovers: Three wines to try that will be entered in the judged competition prior to the Festival Grand Tasting on August 5. The GLM Wine Company 2015 Deluge is a 100% Cabernet Sauvignon Double Gold winner at the Seattle Wine Awards; The Structure Cellars 2016 Viognier is "the best wine I've ever made," says winemaker Brian Grosso; and the Martedi Winery 2015 Ocean Glide Chardonnay is bottled for Hellam Vineyards and exclusively available at Jeff Hellam's LaConner wine store.
For the week of May 28, 2017: Seven Hills Winery 2014 Red Wine – This spectacular wine from Walla Walla's Casey McClellan hits all the right notes and will leave you with a smile on your face. Violets and vanilla bean on the nose, flavors of black plum and cherry, and a finish of sweet cedar and beeswax with finely integrated tannins. A blend of 85% Cabernet Sauvignon, 10% Malbec and 5% Petit Verdot, it's complex, well-balanced and beautifully crafted.
For the week of May 21, 2017: Kerloo Cellars 2015 Blue Mountain Syrah – Ryan Crane is having a blast at his winery in Seattle's Sodo District, located just south of the city's downtown core. But there's plenty of serious winemaking going on here as well, and his overachieving Syrah, sourced from the Walla Walla Valley, is a perfect example. Lavender, white pepper, and berry on the nose, subtle blueberry fruit on the palate and smoky, graphite undertones on the finish sum up this nicely complex wine. Unbelievably priced at $20 a bottle, it begs to be paired with something from the outdoor grill during the Northwest's warm-weather months.
For the week of May 14, 2017: Milbrandt Vineyards "The Estates" 2015 Chardonnay – The Ancient Lakes AVA in Central Washington is home to Evergreen Vineyards; normally known for its Riesling, but also great for the Chardonnay grapes used to make this incredible wine. Baked apple, toffee, butterscotch, and vanilla aromas and flavors fill the glass from start to finish. The finish is round, creamy and lengthy with a beautiful use of oak that enhances the flavor profile without getting in the way.
For the week of May 7, 2017: San Juan Vineyards 2016 Pinot Gris – Although the island winery grows its own varietals it also sources a number of grapes from the Yakima Valley…including this gem of a white wine. Generous pear, Granny Smith apple and lemon/lime citrus flavors converge with brisk acidity and a trace of minerality in a perfectly balanced effort that hits all the right notes. It's a flat-out delicious wine that only needs about an hour of chilling down to provide you with maximum enjoyment.
For the week of April 30, 2017: Wind Rose Cellars 2012 Barbera – This Sequim winery on Washington's Olympic Peninsula may be a bit isolated but it's earned a cult following among local wineophiles. Italian varietals are the specialty here, and this Barbera is a prime example of one of their red wines that is still drinking beautifully. Raspberry aromatics, flavors of dark plum, and a dusting of cocoa powder on the finish with bright accents and soft tannins.
For the week of April 23, 2017: Thurston Wolfe 2016 Lemberger Rose and Martinez & Martinez May Mae 2015 Rose of Cabernet Sauvignon – Here are a couple of great examples of how many colors, flavors and sweetness levels you'll find in Washington Rose. The ruby-hued Thurston Wolfe Rose features understated red currant, rhubarb and green melon with a crisp finish and hint of minerality; the Martinez Rose is packed with mouth-watering watermelon and red cherry flavors that finish with a trace of sweetness.
For the week of April 16, 2017: Dynasty Cellars 2016 Rose Style Wine – This newly released effort from winemaker Peter Osvaldik combines both red and white grapes from Walla Walla Valley's Les Collines Vineyard: A base of 95% Riesling, co-fermented with 5% Malbec. It's a big, heady Rose, with kiwi, green melon and strawberry flavors, along with a crisp finish of ruby red grapefruit. A perfect spring and summer sipper when serve well-chilled.
For the week of April 9, 2017: The Wines of Bonair Winery – This Zillah winery is quite possibly the most unpretentious in the State…and proud of it! Throw in a bevy of solid, reasonably priced wines – many in the $12 to $20-a-bottle price range – and you've got a winning formula from winemaker Bill Mechem. Some personal favorites among their current releases: the 2013 Rattlesnake Hills Chardonnay, the 2013 Cabernet Franc, and the 2012 Yakima Valley Merlot.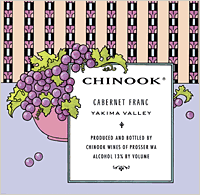 For the week of April 2, 2017: Chinook Wines 2014 Cabernet France – The Prosser husband-and-wife team of Clay Mackey and Kay Simon have been turning out quality wines for decades, and this latest release shows that they're still at the top of their game. Red fruits, a touch of herbaceousness, and perfectly integrated tannins are the highlights of what may be one of the best Cabernet Francs you will ever taste. Simply stated, a beautiful wine on all counts that should not be missed.
For the week of March 26, 2017: TruthTeller Winery 2015 'Frolic' Viognier – Keep your eye on Woodinville winemaker Chris Loeliger, who has exploded onto the Washington wine scene and is cleaning up in the awards and medals department with his incredible wines. This delicious, expressive Viognier is packed with tropical and stone fruit flavors along with a surprising splash of acidity on the finish and it retails for only about $20 a bottle. The grapes were sourced from Elephant Mountain Vineyards in the Yakima Valley.