Bellingham Alive "Sips of the Season" Event Features Thurston Wolfe/9 Restaurant Food and Wine Pairings
Posted by Dan Radil
Posted on December 3, 2015
Start with solid, flavorful Washington wines, pair them with carefully planned, expertly prepared small plates, and serve them to an enthusiastic group of food and wine consumers. These elements converged to make Bellingham Alive's Fall Sips of the Season a smashing success at North Bellingham Golf Course's 9 Restaurant last November.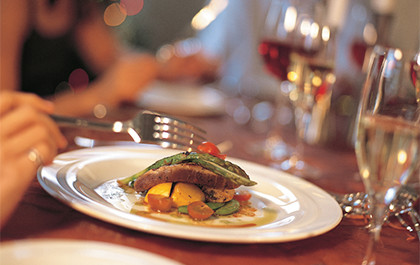 Thurston Wolfe Winery provided several of their current releases to serve as the foundation around which the event was planned. Established in 1987 by husband and wife Dr. Wade Wolfe and Becky Yeaman, Thurston Wolfe has a long history of producing true-to-the-varietal wines that Washington wine enthusiasts have come to rely upon for quality and consistency at very reasonable prices.
The winery, located just minutes off Interstate 82 about 45 minutes east of Yakima, makes about 6,000 cases per year. That puts it solidly in the mid-range category of Washington wineries: too large to be considered for "boutique winery" status and much too small to be grouped in with the mass-produced, out-of-state-owned mega-producers.
Wolfe and Yeaman have been perfectly content to straddle the fence between this not too big/not too small status. Even their contemporary tasting room reflects a "just right" niche with plenty of room to maneuver around the tasting bar while also offering a comfortable, cozy seating area with gas fireplace nearby. An adjacent patio provides additional space for outdoor seating, where guests are encouraged to linger over a glass of wine when the weather allows.
Thurston Wolfe offers wineophiles a broad range of choices including sweet to dry reds, whites, and Port-style wines. The selections for the Sips of the Seasons event reflected this range of palate-pleasing options and served as the basis for the accompanying foods prepared by 9 Restaurant's Executive Chef, Nick Moss.
Chef Moss has extensive food service and catering experience and been with the restaurant since 2012. Since that time he's modified the menu to include freshly prepared, made-from scratch soups, burgers, and sandwiches. He's also steadily earned a reputation for providing Whatcom County foodies with some truly amazing culinary creations, particularly at the restaurant's multi-course wine and beer dinners, which run from mid-fall to late winter.
Assisted by Bellingham Alive food and wine writers Dan Radil (who moderated the event) and Zacchoreli Frescobaldi-Grimaldi, Moss designed a small plates menu that had Sips attendees sighing contentedly, especially when paired with four of Thurston Wolfe's wines.
First up was the winery's 2014 PGV (about $16), a blend consisting primarily of Pinot Gris and Viognier (hence the name "PGV") along with just a splash of Orange Muscat.
This crowd-pleasing white wine featured generous green melon and stone fruit aromas and flavors with a hint of tangerine, and the wine's crisp acidity contrasted nicely with the rich, creamy texture of a bacon corn chowder pairing. The plating included a crostini-topped purée of roasted vegetables and slice of triple cream brie, which also made for stellar food and wine combinations.
For the 2012 Howling Wolfe Zinfandel (about $20), a trio of foods was selected to complement the wine's spicy berry and red currant flavor profile. Herb-roasted fingerling potatoes, grilled and skewed sweet potato, and lean roast beef with fresh horseradish on crostini proved to be perfect pairing partners to this flavorful, medium-bodied red wine.
The full-bodied, 2012 "The Teacher" Cabernet Sauvignon (about $25) then took center stage with its darker fruit flavors of black currant and cherry, gentle smoky undertones and finish of toasted oak with supple tannins.
Excellent food pairings included spiced, caramelized nuts and an aged white cheddar cheese, but the scene-stealer was Chef Moss's deconstructed house-smoked chicken, apple and Gouda sandwich. The three ingredients, cut into bite-sized pieces and served on a skewer, made for culinary nirvana when paired with the Cabernet.
For the event finalé, Moss prepared a house-made brown sugar/bourbon ice cream to serve alongside Frescobaldi-Grimaldi's made-from-scratch coconut macaroons. Thurston Wolfe countered with a 2010 JTW's Port (about $12 for 375 ml), an exquisitely balanced Port-style blend with ripe cherry fruit, caramel and a whisper of spicy chocolate on a lingering, slightly sweet finish. Together, the desserts and the wine provided a perfect conclusion to a late afternoon of gastronomic delights that left everyone smiling and eagerly anticipating the next Sips event, coming in March.
THURSTON WOLFE WINERY
588 Cabernet Court
Prosser, Washington
(509) 786-3313
thurstonwolfe.com
9 RESTAURANT at NORTH BELLINGHAM GOLF COURSE 
205 West Smith Road
Bellingham, Washington
(360) 398-8300 extension 2
northbellinghamgolf.com