Comfort Wines: Consistent, Reliable, Well Priced
Posted by Dan Radil
Posted on September 25, 2006
Vic Hubbard, wine buyer for Bellingham's Community Food Co-Op, likes to refer to something he calls "comfort wines." Comfort wines, he says, are "familiar, fairly consistent…wines that are made in enough quantity to have good availability." In addition, "these wines are not too expensive to enjoy at least occasionally."
I like that concept. The fairly recent proliferation of wineries and wines is staggering, and walking into a store and trying to make an informed purchase can sometimes be a bit overwhelming.
That's why I think it's nice to have some measure of reliability in a wine from year to year. And comfort wines – like comfort foods – should be something you can buy without reservation, knowing that they will please your palate on a consistent basis.
I've got a couple of suggestions for what I would select as comfort wines. First up is the Barnard Griffin 2004 Fumé Blanc (about $9).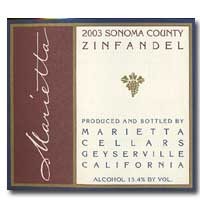 This Columbia Valley white wine has plenty of citrus flavors followed by a slightly herbal finish. It matches up perfectly with chicken or seafood, it's readily available and it's always extremely well-priced.
Another of my all-time favorite labels is the Marietta Cellars Old Vine Zinfandel from California's Sonoma Valley. The lot numbers vary from year to year, but the wines are consistently solid and delicious. If you like your Zins with lots of dense, lush, blackberry and currant flavors and touches of spice on the finish you can't go wrong with Marietta. It's another wine that's both tasty and affordable, generally priced in the range of $10 to $15 a bottle.