Monthly Archives: September 2007
Posted by Dan Radil
Posted on September 24, 2007
This week we continue our look at San Juan Vineyards, located on picturesque San Juan Island and just a short drive from the Friday Harbor ferry terminal.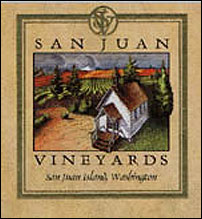 Although the winery has earned accolades in the past, one of the reasons for its recent success is undoubtedly due to the skills of winemaker Chris Primus. Primus joined the staff a little over a year ago after working as an assistant winemaker in Oregon.
One of his first efforts, a 2006 Siegerrebe, was a grand slam; intensely aromatic with plenty of spice and a surprisingly bone dry finish. The wine turned out to be immensely popular – so much so that the entire production of just over 500 cases blew out the doors in about four months, which is pretty impressive stuff. With a precedent like this, I'm anxious for the 2007 vintage, which is expected to be released next spring and should be priced somewhere around $17 a bottle.
Also worth noting is the winery's 2004 Cabernet/Merlot which normally runs about $15 a bottle and is scheduled to go on sale in October for only about $10. This red wine blend is dense and chewy with cherry and dark plum flavors capped by a touch of toasted oak on the finish. Look for this and other San Juan Vineyards wines at major Bellingham grocers and wine specialty shops.
The tasting room is currently open from 11am to 5 pm daily and is well worth the visit. For more information phone (360) 378-9463 or visit their web site www.sanjuanvineyards.com.