Monthly Archives: August 2006
Posted by Dan Radil
Posted on August 28, 2006
For a number of smaller Washington wineries it's not uncommon for the owners and winemakers to still maintain their day jobs. I've met attorneys, pharmaceutical sales reps, real estate agents and farmers, to name a few, who are serious about their winemaking but just haven't been able to make the jump to working at it on a full-time basis.
When an individual can cut the cord, so to speak, it's usually a sign of a winery's growing success. Such is the case with Rich Funk, co-owner and winemaker of Saviah Cellars in Walla Walla.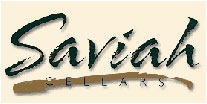 Funk is a former Environmental Health Specialist who left his job earlier this year to devote 100 percent of his time to Saviah, and his current releases reflect a more focused effort to produce some of the better wines coming out of Southeast Washington.
The Jack, Lot 25 (about $18): This tasty blend of Merlot and Cabernet displays plenty of dark cherry and plum flavors and is highlighted by a slightly spicy finish. It's a terrific value for a red wine of this caliber.
2004 Une Vallee (about $30): A beautiful, Bordeaux-style red that begins with an incredible aroma of blueberry and vanilla. Dense, complex and loaded with black cherry and currant flavors, be sure to give this wine ample time to open up. Better yet, cellar it for another two to three years; I think it will continue to get even better.
Other current releases include the 2005 Star Meadows White (about $25), a blend of Sauvignon Blanc and Semillon and the 2004 Red Mountain Syrah (about $30).
Saviah Cellars wines are available in Anacortes at Compass Wines and the Food Pavilion and in Bellingham at selected Haggen stores. The wine list at Bellingham's Nimbus restaurant also features The Jack, which is available for purchase by the bottle. More information: www.saviahcellars.com.