Walla Walla is one of my favorite Washington wine-related destinations and I try to travel there once a year for a visit.
But in spite of the nice (and usually drier) change of scenery, the six hour-plus drive can be a sticking point. There are also accommodations, meals, and fuel costs to add to the mix. When you consider all the time and financial concerns involved, it's just not as simple as loading up the vehicle and taking off.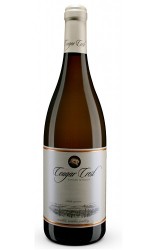 Fortunately, as many of you know, the Woodinville area has become a mecca of tasting rooms for wineries based in Eastern Washington. And Walla Walla has become well represented among the dozens of wineries that also use the Seattle suburb as a second location.
Woodinville can be reached from the Bellingham area – traffic permitting – in less than 90 minutes and it makes for a great day trip or overnight stay where you can experience a taste of Walla Walla at a fraction of the cost.
Walla Walla-based wineries that now also reside in Woodinville include Cougar Crest Estate Winery, Dusted Valley Vintners, Forgeron Cellars, Isenhower Cellars, Otis Kenyon Wine, Patit Creek Cellars, Pepper Bridge Winery, and Trust Cellars.
Here's a smattering of wines I've recently sampled from a few of these wineries that I think you might enjoy:
The Cougar Crest 2010 Viognier (pictured above, about $20) features generous aromas and flavors of peach and nectarine along with a pleasant tinge of orangey citrus. This is a well-polished, full-bodied white wine that closes with a soft, round finish and should pair nicely with poultry, crab or lobster.
I thought the Isenhower Cellars 2011 Pink Paintbrush (pictured at left, about $15) looked a bit more burnt orange than pink, but that's a minor quirk. It's a delicious cabernet franc rosé featuring stone fruit and honeysuckle aromatics along with bright flavors of strawberry, pie cherry, and green melon. Sushi was the first food pairing that came to mind.
Forgeron Cellars continues to impress me with its broad range of well-made wines. A new trio of favorites include the easy-drinking Walldeaux Smithie Red Wine (about $18), a nine-varietal combination brimming with red berries and touches of spice and white pepper; the 2011 Ambiance (about $26), an amazing white Rhone blend with peach aromas, juicy Bartlett pear flavors and a nutty, viscous finish; and the drop-dead gorgeous 2009 Syrah (about $30), with layers of blackberry, currant and bittersweet chocolate.
For more information on these and other wineries in the Woodinville area check out woodinvillewinecounty.com.